Economic Analysis
About Us 
The U.S. DOT Volpe Center's Economic Analysis Division serves transportation leaders who make policy, programmatic, regulatory, and procurement decisions by providing a comprehensive range of economic analysis, equity impact analysis, industry analysis, and forecasting services—across all modes of transportation.
Our team provides regulatory and financial decision support, evaluation and impact assessment, and travel behavior modeling and forecasting through benefit-cost analysis, econometric modeling, survey research, and interviews and focus groups. 
Because our economic, survey research, and evaluation skills have many synergies with engineering, environmental science, information technology, and human factors, our team engages in frequent cross-Center collaboration to provide thorough, multidisciplinary, multimodal analyses and solutions. 
We empower transportation leaders, giving them the data, analysis, and forecasting needed to make smart decisions across programs, modes, and Departmental priorities.
We partner with sponsors to provide them the information they need to structure, manage, and evaluate their programs to deliver goals efficiently and equitably.
Our Capabilities
Economic and Policy Analysis
Provide economic analysis of transportation and related industries.
Assess the impacts of government policies and regulations upon the transportation sector and the U.S. economy.
Analyze traveler, consumer, industry, and market impacts, including distribution of benefits and costs.
Impartial Investigations and Program Evaluations
Analyze issues related to passenger and freight transportation, locally, regionally, nationally, and internationally.
Address the current performance and future passenger and freight transportation systems, vehicles, modes, and networks to help inform future decision-making.
Research and Surveys Implementation and Analysis
Gather quantitative and qualitative information on travel preferences, travel behavior, technology purchase and use, and customer satisfaction.
Create and field surveys, including developing sampling plans, designing survey instruments, and providing data analysis.
Use structured questionnaires and conduct semi-structured interviews to analyze, probe deeper, and better understand complex topics.
Spotlight On Our Recent Work
Economic Strength and Modernization
Transportation Equity
Transformation and Innovation
Meet Our Team
View selected staff biographies.
Sari Radin
Chief, Economic Analysis Division 
Sari Radin is the U.S. DOT Volpe Center's chief of economic analysis. Radin leads a team of more than 20 economists and social scientists, supporting major decisions and initiatives through evaluation and impact assessment, travel modeling and forecasting, and regulatory and financial decision support. The Division has expertise in all modes of transportation and frequently leverages knowledge and insights across modes and in support of multidisciplinary teams.
Since starting at the U.S. DOT Volpe Center in 1995, Radin has primarily conducted prospective and retrospective studies and evaluations related to new technology and practice effectiveness, and technology transfer in a market context. She has also conducted formative program evaluations for programs in multiple modes, with a theme being assessment of data availability, quality, and use in decision making. 
Before joining the U.S. DOT Volpe Center, Radin conducted analyses in support of program design and infrastructure investment at the Wisconsin Department of Transportation and supported benefit cost and econometric analyses at Resources for the Future. Radin has a BA in economics from Yale University (New Haven, CT) and an MS in economics from the University of Wisconsin-Madison (Madison, WI). 
Jonathan Badgley
Senior Economist
Jonathan Badgley is an economist focusing on equity and resilience analysis, regulatory and program evaluation, and decision support and benefit-cost analysis (BCA) tools. Since joining the U.S. DOT Volpe Center in 2015, he has worked with the full range of operating agencies within U.S. DOT as well as several non-DOT federal agencies. His recent work includes program evaluation of the FHWA R&T Innovative Intersection Design program; regulatory evaluations of the manual of uniform traffic devices, the National Bridge Inspection Standards, the Emergency Relief program, and aviation accessibility rules regarding lavatory accessibility and wheelchair accessibility; decision support tool development of the Resiliency and Disaster Recovery tool, the V2I Benefits Estimation tool, and the Bridge Improvement Program BCA tool; estimation of national and state vehicle hours traveled; and literature review and analysis of the distributional impacts of highway funding mechanisms. Badgley has BAs in economics and philosophy and an MS in agricultural, environmental, and development economics from The Ohio State University (Columbus, OH).   
Greg Bucci
Senior Economist 
Greg Bucci is an economist focusing on data analysis and performance evaluation. Current areas of emphasis include supply chain resiliency, innovative finance, and equity measures. He works primarily on surface transportation modes, including working with FRA, FTA, and FHWA. Since joining the U.S. DOT Volpe Center in 2013, Bucci has conducted a range of regulatory impact evaluations, grant program assessments, and research program evaluations. He has assessed passenger railroad on-time performance and railroad cost tracking systems. Bucci has led efforts to evaluate highway research and technology investments and has supported innovative finance program development. He joined the U.S. DOT Volpe Center after completing his Master of Arts in economics from Boston University (Boston, MA) and has public, nonprofit, and private consulting experience. Bucci has a Bachelor of Science in economics and environmental studies from Bentley University (Waltham, MA).   
Lora Chajka-Cadin 
Social Scientist 
Lora Chajka-Cadin is a social scientist in the U.S. DOT Volpe Center's Economic Analysis Division. She is focused on program development and evaluation projects that incorporate primary research and data analysis. Through qualitative and quantitative research methods (e.g., in-depth interviews, survey research, observational research, and statistical methods), Chajka-Cadin brings the perspective of agencies, travelers, and other stakeholders to a range of transportation-related projects. Recent work includes several survey projects for the Intelligent Transportation Systems Joint Program Office (ITS JPO) designed to assist the program in understanding the current ITS market and how to accelerate ITS deployment. The remainder of her project portfolio cuts across modal administrations. Chajka-Cadin recently conducted evaluations for FAA and FHWA's Research and Technology Evaluation Program and conducted research in support of DOT's Technology Transfer Program. As a social scientist, she also provides subject matter expertise to U.S. DOT Volpe Center teams in the areas of survey research, market assessment, and marketing strategy. Prior to joining the U.S. DOT Volpe Center, Chajka-Cadin spent 15 years in the private sector working as a marketing consultant and consumer insights specialist. She has a BS in consumer economics and housing from Cornell University (Ithaca, NY) and a Master of Marketing Research from the University of Georgia (Athens, GA).
Kaitlin Coppinger
Economist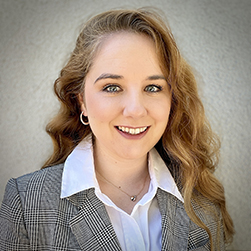 Kaitlin Coppinger is an economist with broad-based policy and analytical experience in assessing outcomes within transportation and energy economies. She has conducted a range of policy, regulatory, and cost-benefit analyses at the U.S. DOT Volpe Center. Specializing in maritime economics, Coppinger joined the U.S. DOT Volpe Center in 2017 and returned in 2023 following a two-year period where she was engaged as an economist in the energy sector focusing on decarbonization and sustainability. She co-authored a white paper on economic development and highway right-sizing, which looked at innovative approaches to addressing aging infrastructure, and has contributed content, analysis, and modeling to numerous publications, including the development and implementation of the Sacramento Municipal Utility District's "2030 Zero Carbon Plan." Coppinger holds a BA in economics from the University of California, Davis (Davis, CA) and an MA in policy economics from Tulane University (New Orleans, LA).
David Hyde
Senior Economist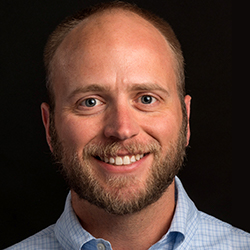 David Hyde is an economist with 15 years of experience focusing on transportation costs and intercity railroad planning. He oversees the U.S. DOT Volpe Center's support of FRA in its oversight of Amtrak including cost reporting, state-supported passenger routes, and evaluation of rail project benefits and costs. This work draws on the U.S. DOT Volpe Center's long history analyzing Amtrak's costs including the development, in collaboration with Amtrak and FRA, of its internal cost accounting and management system. Hyde also supports FRA's railroad planning efforts by contributing to FRA planning documents and supporting the development of railroad planning and environmental analysis guidance for use by states, railroads, and other grantees. In addition, he supports the United States Transportation Command's worldwide shipping Universal Service Contract and the Office of the Secretary of Transportation's competitive grant programs. Hyde has a BA in economics and an MA in economics from Northeastern University (Boston, MA). 
Joseph Luna
Senior Economist
Joseph Luna, PhD is an economist engaged in program evaluation, mixed-methods research, and international development. To help U.S. DOT measure the societal benefits of its programs, Luna has managed evaluations of competitive grant programs and innovative technologies, and he continues to contribute his expertise to U.S. DOT's evaluation efforts. On behalf of the Millennium Challenge Corporation and U.S. DOT's Office of International Transportation and Trade, Luna provides on-site technical assistance on policy and institutional challenges related to transportation investments in the Global South. His work incorporates a variety of social-science research methods, including statistical techniques, interviews, simulation, and facilitation. Prior to joining the U.S. DOT Volpe Center in 2016, he conducted international-development research and evaluation projects in Sub-Saharan Africa. Luna has a BA in economics and a PhD in government from Harvard University (Cambridge, MA).  
Kendall Mahavier
Economist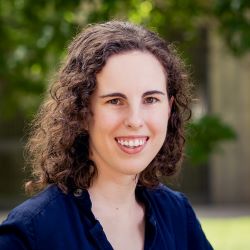 Kendall Mahavier is an economist focusing on benefit-cost analysis, evaluation, and mixed-methods research. Since joining the U.S. DOT Volpe Center, she has worked across a wide variety of transportation modes, including work for FHWA, FTA, MARAD, FRA, and PHMSA. Mahavier's recent work includes benefit-cost reviews for discretionary grant programs, preparing a regulatory impact assessment for the Access Board's Public Right-of-Way Accessibility Guidelines, and researching the financial risk of fuel price fluctuations associated with transporting U.S. military goods. Mahavier has co-authored reports on a range of topics, including evaluations of automated shuttles, the effectiveness of highway law enforcement, and the importance of highways to agricultural shipping.  
 Mahavier joined the U.S. DOT Volpe Center as a Pathways Intern in 2017 and returned full-time in 2018. She has a Master of Science in economics from Tufts University (Medford, MA) and a Bachelor of Arts in both economics and politics from Oberlin College (Oberlin, OH).  
David Pace
Senior Economist
David Pace is a senior economist in the Economic Analysis Division, where he has led numerous modeling efforts and the development of the U.S. DOT Volpe Center's economic forecasting practice. Recent projects have focused on developing and managing a global aviation fleet forecasting model for FAA that is being used for emissions analysis. As part of this project, Pace played a lead role in the technical working groups supporting commercial aviation analysis for the International Civil Aviation Organization. He also organized and led an FAA conference on building a U.S. aviation forecasting model, which included forecasting airport choice, aircraft choice, and network evolution. Pace has led multiple studies for USTRANSCOM, including examining the financial risk of oil and currency fluctuation associated with transporting U.S. military goods overseas via commercial vessels, and providing guidance of the reauthorization of the Maritime Security Program. In addition, he led U.S. DOT Volpe Center teams developing econometric models to forecast motor vehicle travel demand and GIS-based models to calculate vehicle hours-of-travel by cars and trucks.
Prior to joining the U.S. DOT Volpe Center, Pace was an economist at Global Insight, where he researched, forecasted, and analyzed the short- and long-term prospects for the state and local economies of the New England region. He wrote a quarterly analysis on the region's economies and presented Global Insight's opinion of New England economies to regional media, governments, and business groups. Pace has worked extensively with Bureau of Economic Analysis and Bureau of Labor Statistics data and with statistical software such as EViews and SQL. He has a MS in international economics from Suffolk University (Boston, MA). 
Sean Peirce 
Senior Economist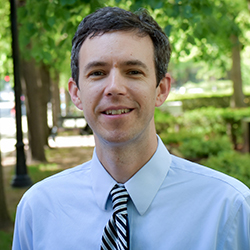 Sean Peirce is an economist whose work focuses on program evaluation, benefit-cost analysis, and travel behavior. Since joining the U.S. DOT Volpe Center in 2001, he has authored or co-authored reports on a range of topics including congestion pricing, transit fare collection, intelligent transportation systems, and automated vehicles. Peirce has served as a benefit-cost reviewer for BUILD and other discretionary grant programs and has prepared benefit-cost assessments for numerous proposed safety regulations for pipelines, hazardous materials, and public transit. He has a BA in economics from Harvard University (Cambridge, MA) and a MS in regional and urban planning from the London School of Economics and Political Science (London, UK). 
Margaret Petrella
Senior Social Scientist 
Margaret Petrella is a social scientist with expertise in survey research and a background in both quantitative and qualitative methods. Her work cuts across a number of modal administrations and tends to focus on evaluation, traveler behavior, and user experience and satisfaction. Currently, Petrella co-manages the portfolio for the Intelligent Transportation Systems (ITS) Joint Program Office (JPO) Deployment Evaluation Program. This work includes the ITS Deployment Tracking Surveys, which have been administered nationwide since 1997 to track the deployment of ITS. On behalf of FHWA, she manages technical evaluation support to the Advanced Transportation and Congestion Management Technologies Deployment (ATCMTD) Program. Petrella and her multidisciplinary team provide grantees with technical assistance on evaluation and performance measurement, specifically with respect to measuring the benefits, costs, and return on investment of the deployed technologies. Petrella has also designed user surveys in support of the Connected Vehicle Pilot Demonstration Program and provides survey-related technical guidance to Federal Land Management Agencies.
A previous notable project includes the design and management of large-scale household panel surveys in Seattle and Atlanta to measure the impacts of road pricing on traveler behavior. These surveys were conducted as part of the national evaluation of the Urban Partnership Agreement and Congestion Reduction Demonstration Programs. Before joining the U.S. DOT Volpe Center, Petrella worked as a survey analyst for the Pew Research Center for the People and the Press and the Gallup Organization. She has a BA in social studies from Harvard University (Cambridge, MA) and a Master of Political Science from the University of Michigan (Ann Arbor, MI). 
Dr. Don H. Pickrell
Chief Economist
Principal Technical Advisor for Transportation Economics 
Dr. Don H. Pickrell serves as part of our team of principal technical advisors who work across the Center to identify emerging transportation technologies, conduct analyses and assessments on topics of national significance, and explore new opportunities in response to evolving national concerns.
Pickrell serves as principal technical advisor for transportation economics, in addition to his role as chief economist in the U.S. DOT Volpe Center's Economic Analysis Division. Read Dr. Don H. Pickrell's full bio. 
Catherine L. Taylor 
Senior Economist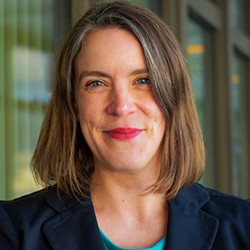 Catherine L. Taylor is an economist focusing on equity analysis, market analysis of new transportation technologies, benefit-cost analysis, regulatory analysis, and travel demand modeling. Prior to joining the U.S. DOT Volpe Center in 2009, she was a consultant at Charles River Associates and The Brattle Group. Taylor's recent projects include analysis of the delay costs from hazmat rail incidents, macroeconomic impacts from higher-level automation of long-distance trucking, equity analysis of U.S. DOT discretionary grant programs, and regulatory analysis on behalf of FHWA and OST. She has a BA from the University of Georgia (Athens, GA) and a Master of Economics from Boston College (Chestnut Hill, MA). 
Jacob Wishart 
Economist 
Jacob Wishart has been an economist at the U.S. DOT Volpe Center for eight years, with a focus on econometric and time series modeling and forecasting. He works across multiple transportation modes including FHWA, FAA, FTA, and NASA. During his tenure at U.S. DOT Volpe Center, Wishart has established the U.S. DOT Volpe Center's role as the official forecaster for vehicle travel demand for FHWA, which is used to inform national and state long-run demand trends. He also works closely with FAA and the International Civil Aviation Organization in analyzing potential global emission standards for commercial aircraft through aviation fleet evolution modeling and cost effectiveness analyses of proposed standards. Wishart has led a multidisciplinary project for FTA analyzing potential applications and use cases for unmanned aircraft systems in public transit settings. He has also led recent projects with NASA including a lifecycle cost analysis of current and new aircraft technologies and a multimodal assessment of the impacts of the COVID-19 pandemic to help inform future resiliency measures. Wishart has a BA in economics from Oberlin College (Oberlin, OH) and an MA in economics from Miami University (Oxford, OH). 
Last updated: Tuesday, September 12, 2023