Volpe's Environmental Science and Engineering Division is instrumental in solving complex environmental problems. Our experienced professionals tackle complicated requirements, evaluate feasible alternatives, and develop and implement innovative, cost-effective solutions. 
We perform comprehensive environmental assessments of sites and facilities, examine remediation alternatives, decontaminate sites, ensure the safe transport of hazardous materials, prevent the physiological impact of diseases and pollutants, design and install fire protection systems, and utilize the power of advanced geospatial analysis in decision making.
Our work helps reduce pollution and other adverse environmental effects from transportation and transportation facilities.
Capabilities
NEPA Compliance and Environmental Impact Assessment:
We provide senior technical guidance in completing environmental analyses needed for compliance and preparing National Environmental Policy Act (NEPA) documentation, including Environmental Assessments (EA), Environmental Impact Statements (EIS), and Findings of No Significant Impact (FONSI).
Sample work:
Environmental Engineering:
We perform turn-key services on civil and environmental engineering projects ranging from construction and demolition to environmental sampling and remediation. Our work includes multimedia environmental compliance, fuel storage tank system training and spill response, inspections and management, and environmental management system (EMS) development, auditing, and implementation support.
Hazardous Materials Transportation Safety and Management:
We support the implementation of hazmat and security programs designed to protect employees, resources, transportation networks, and the public. Our work includes policy development and planning, training, performance measurement, and data analysis.
Environmental and Occupational Safety and Health:
We focus on the recognition, evaluation, and control of potentially harmful physical, biological, and chemical agents (e.g., radon and perfluorinated chemicals) and diseases affecting human health and safety, as well as their potential impact on the natural environment.
Fire Life Safety:
We perform a full spectrum of fire protection, engineering, and construction services to ensure compliance with complex OSHA and National Fire Protection Association standards, and other federal, state, and local requirements and codes.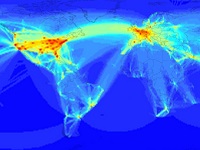 Geospatial Analysis:
Our geographic information systems (GIS) team leverages GIS to visualize, analyze, and better understand all aspects of transportation to empower our customers to make informed data-driven management decisions.
Sample work:
Staff Biographies
View selected biographies of Volpe's Environmental Science and Engineering staff.
Updated: Tuesday, July 25, 2017