Coming Fall 2023 – A New Era of Transportation Innovation 
U.S. DOT Volpe Center @ Kendall Square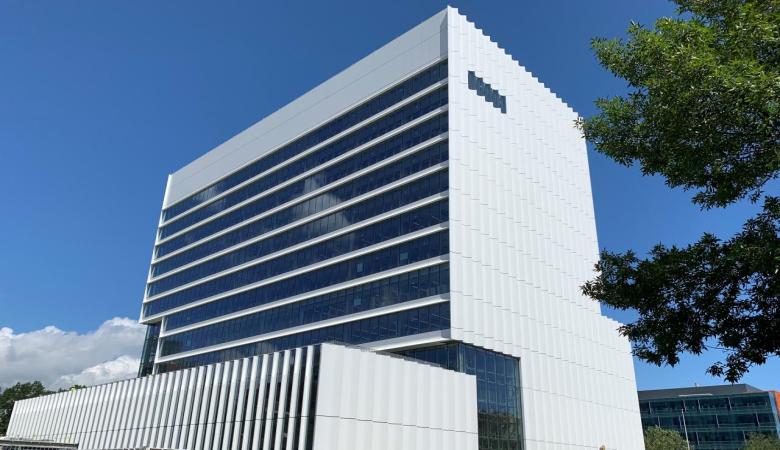 A New Era of Transportation Innovation  
U.S. DOT will open its doors to a new, state-of-the-art facility in the heart of Kendall Square in the fall of 2023.   
The U.S. DOT Volpe Center has been an active part of the Cambridge, MA and the Kendall Square community since 1970. This premier location, known as "the most innovative square mile in the planet," firmly positions the U.S. DOT in the epicenter of technology, innovation, and entrepreneurial startups. The vibrancy, diversity, and energy of this location infuses our culture, helps inform our work, and optimally supports the current and future needs of the Department.  
After more than 50 years, the U.S. DOT Volpe Center is building on its longstanding history and legacy and moving forward to accommodate growth and change as we look toward our bright future.   
Our New Footprint  
Four acres in the heart of Kendall Square  
One building  
Goal to be LEED Gold certified   
Approximately 305,000 usable square feet (USF)  
Approximately 26,000 USF of laboratories  
Approximately 38,000 USF of conference and meeting space  
300 underground parking spaces and surface visitor parking  
Brand new childcare center   
Accessible by MBTA  
Designed to Perform  
Our new facility is designed to enhance the innovation, collaboration, flexibility, and partnerships that have long been part of our culture—and embrace the emerging transportation needs of the future.   
Partnerships  
Thanks to an innovative real estate exchange transaction resulting in a partnership between U.S. DOT, the city of Cambridge, the Massachusetts Institute of Technology (MIT), and General Services Administration (GSA), the new U.S. DOT Volpe Center facility will be financed without requiring appropriated funds.  
The result is that GSA will develop 4 acres of the under-utilized 14-acre parcel of federal land that currently houses the U.S. DOT Volpe Center's six buildings and outdated facilities to provide a new turn-key facility for the U.S. DOT Volpe Center and U.S. DOT regional and district offices.  
The remaining 10 acres of the parcel will be conveyed to MIT for reuse and redevelopment.  
The U.S. DOT Volpe Center's laboratory space also extends to a 155-acre Weather Research Facility located at Joint Base Cape Cod in Falmouth, MA. This facility is uniquely capable of performing validation and verification of a wide variety of complex atmospheric and meteorological sensors that measure visibility, rainfall, wind, and cloud ceiling.  
Innovation   
The new U.S. DOT Volpe Center facility will include laboratories, conference space, offices, open workstations, and joint use space that bring multimodal staff from across U.S. DOT together to encourage collaboration, foster connection, and the exchange of ideas.   
The open atrium, glass walls, and large-scale LED demonstration boards will not only showcase our innovation and spark ideas inside the U.S. DOT Volpe Center, but also bring the conversation outside into Kendall Square.   
Built with sustainability and resilience in mind, the new U.S. DOT Volpe Center facility will feature the highest levels of certification in energy and environmental design.   
Collaboration  
Our new U.S. DOT Volpe Center is built for collaboration with open floor plans and collaboration space designed with safety and the emerging needs of our workforce.   
The new facility features state-of-the-art, accessible lab space that allows our researchers to collaborate and innovate to test theoretical concepts in real-world simulations and put research to work to advance transportation innovation for the public good.   
With training rooms and conference space to accommodate up to 800 people, the U.S. DOT Volpe Center can open up its world-class expertise and expand its programming to meet the expanding needs of the transportation enterprise.   
Flexibility   
The new facility is built with accessibility in mind, poised to accommodate the mobile-ready needs of the workforce of tomorrow.   
Designed for agility, GSA is applying lessons learned from today to ensure that we can expand to accommodate future growth in line with the Department's goals for the coming century and beyond.    
Bringing together world-class transportation expertise in one building—including the U.S. DOT Volpe Center, U.S. DOT Office of the Secretary of Research and Technology, and regional U.S. DOT offices—allows for efficiencies, connections, and scalability that benefit the traveling public.   
Join the Conversation
In the fall of 2023, we welcome you to our new home at 220 Binney Street, Kendall Square, Cambridge, Massachusetts.
Last updated: Monday, October 3, 2022