Working with Carriers on Suicide Countermeasure Pilots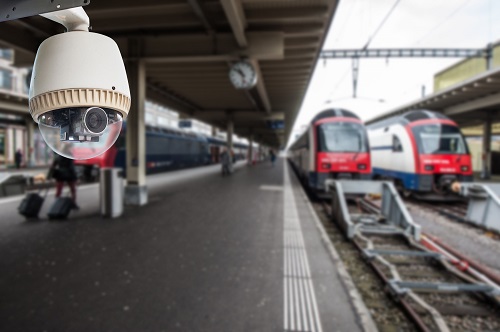 Suicide deaths are often preventable. Measures to prevent suicide deaths may be physical, such as barriers. They may be psychological, such as advertising help services. Or, they may include a combination of both.
Gaining help from a trained professional is one key factor in preventing a person from taking his or her life. Unfortunately, many Americans encountering thoughts of suicide or other mental health issues are unaware of free resources available to help them.
The Federal Railroad Administration (FRA) has sponsored a research effort at the U.S. Department of Transportation's Volpe Center to work directly with rail carriers to identify, implement, and evaluate appropriate mitigation strategies. One such evaluation is underway with the Massachusetts Bay Transportation Authority (MBTA), and FRA is discussing other evaluations with stakeholder rail carriers.
MBTA is partnering with the Samaritans charity to promote Samaritans' 24/7 toll-free suicide helpline: 877-870-4673. FRA has sponsored a research effort at Volpe to help understand the impact of this campaign. By promoting the helpline in public spaces, MBTA and Samaritans believe they will reach a wide audience, reduce the number of suicide attempts on the rail system, and help reduce all suicides in Massachusetts.
Current Status
MBTA launched the Samaritans campaign in January 2016 with digital signage in core stations and posters in many other stations across the system. MBTA also uses its notification boards in stations and public address systems to promote the helpline. In November 2016, the campaign was updated with a broader roll-out and a refreshed design. Volpe continues to work with Samaritans to track the impact of this collaboration.
Volpe would like to hear from rail carriers interested in exploring options to mitigate suicides on their systems. If you are such a carrier, please reach out to Scott Gabree at Volpe.
Preliminary Findings from MBTA/Samaritans
Volpe works with MBTA and Samaritans to understand the impacts of this campaign and share those impacts with rail carriers around the country. This evaluation includes the following elements:
Ridership awareness of Samaritans and services: Pre- and post-campaign assessment.
Call and text volume to Samaritans helpline number and website traffic, assessed monthly.
Other by-products of collaboration between a rail carrier and a suicide charity. For example, increased awareness of identifying suicidal individuals, increased volunteering at Samaritans, and training opportunities for staff.
Proposed Next Steps
Volpe has worked with a variety of experts in rail suicide in the U.S. and internationally, and will bring this expertise to help MBTA and Samaritans continue to craft a successful campaign. Volpe continues to:
Coordinate with Samaritans to discuss potential changes to the campaign or improvements based on best practices from other implementations.
Conduct interviews with MBTA and Samaritans staff to understand how this relationship has resulted in changes for their organizations.
Regularly monitor the volume of calls and texts to the Samaritans hotline via phone and text.
Coordinate with international rail suicide experts to learn of best practices and lessons learned from other mitigation efforts.
Coordinate with U.S. rail carriers to explore additional opportunities for collaboration.
Relevant Research
The following reports from researchers in the U.S. (including Volpe) and internationally discuss the current information available on rail trespass and suicide incidents and the implementation of countermeasures to prevent them:
Last updated: Wednesday, October 14, 2020