Volpe is proud to offer in-person AEDT training courses led by a team comprised of staff from the AEDT development teams. The classroom-style courses are instructor-led through presentations, hands-on exercises, and question-and-answer periods. Participants will work in pairs using a course-integrated AEDT training computer. Instructors will lead and complete exercises along with participants.
Training courses are held at the Volpe Center, located at 55 Broadway, Cambridge, MA. If you have questions on the Volpe AEDT training, please contact us at Volpe-AEDT-Training@dot.gov.

"The hands-on nature of the training is very helpful. I appreciated the presence of the different area experts because it allowed for a broad range of questions to be addressed." (Volpe photo)
February 2019 Session Information 
| | | | | | |
| --- | --- | --- | --- | --- | --- |
| Course Name | Date | Start Time | End Time | Course ID | Cost (USD) |
| Noise and Emissions Fundamentals | February 4, 2019 | 12:30 p.m.  | 4:30 p.m. | FUND_BOS_2019-02 | $450 |
| AEDT Training | February 5, 2019 | 8:30 a.m. | 4:30 p.m. | AEDT_BOS_2019-02 | $850 |
| AEDT Databases and Data Input | February 6, 2019 | 8:30 a.m. | 3:30 p.m. | DATA_BOS_2019-02 | $800 |
Notes:
Participation is limited to 24 attendees on a first-come, first-served basis.
If you register after the course has been filled, the registration fee will be promptly refunded.
We understand that conflicts may arise after you register for a course. Requests for transfer to a co-worker or deferment to a later class may be made up to two weeks before the training date.
Course Descriptions
Noise and Emissions Fundamentals Course
This half-day course (4 hours) covers the fundamentals of noise and emissions the day before the AEDT training. This course is intended for those with no prior noise or emissions experience or those looking for a refresher. Fundamental knowledge of noise and emissions is required for the AEDT training course.
AEDT Training Course
This full-day, introductory-level course is intended for users who want to learn the basics of modeling environmental consequences of aviation operations in AEDT, as well as users of legacy tools transitioning to AEDT. This course will cover:
AEDT's graphical user interface
Creating operations
Creating and visualizing metric results for noise, emissions, emissions dispersion, and fuel consumption
How and when to use a dynamic grid
How to use the environmental justice workflow
Creating vector tracks in the airport designer
Introduction to AEDT Standard Input File (ASIF)
AEDT Databases and Data Input Course
This full-day course is designed for users who want to learn more about the AEDT study database and use ASIF or SQL to import study data. Prerequisites for this course are a basic understanding of relational database concepts, familiarity with basic SQL statements, and prior experience using AEDT and ASIF.  This course will cover:
Key tables in the AEDT Study database
Using SQL Server Management Studio
Different ways to use SQL and ASIF for data input
How to access results directly in the database
Visiting Volpe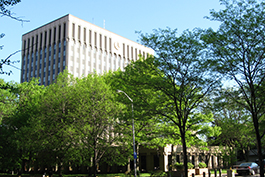 Volpe is located in Kendall Square in the heart of Cambridge, Massachusetts. Please review our visitor information page or the Volpe Visitor's Guide for information on the accepted forms of photo ID. The Visitor's Guide also contains information about transportation, accommodations, and other logistics and attractions.
Updated:
Tuesday, December 4, 2018