First-of-Its-Kind Hazard Alert System for Motorcyclists
"We are providing a solution to improve motorcyclist safety in a way that both benefits the community and advances technological innovation," said Dr. Elaine B. Coleman, VP of Commercialization at Charles River Analytics. 
The Challenge
Injury and mortality rates for motorcyclists are significantly higher than they are for automobile, truck, and other drivers. Poor road conditions (e.g., sand on the road, potholes) and inclement weather that might not concern an automobile driver can pose immense danger for a motorcyclist.
There are several hazard-tracking and alerting systems available for vehicular drivers (e.g., Waze). However, no such motorcycle-specific technology had been created. Motorcyclists face unique constraints because keeping their eyes on the road and hands on controls is imperative for balance and overall operation. These constraints make receiving and recording hazards more challenging for a motorcyclist than for a driver.
The U.S. Department of Transportation (U.S. DOT) Small Business Innovation Research (SBIR) program worked to address these challenges through its annual Phase I Solicitation. In 2015, the Federal Highway Administration (FHWA) sponsored an SBIR topic that would create a roadway hazard alert system for motorcyclists. Charles River Analytics, based in Cambridge, Massachusetts, was awarded SBIR funding to develop BARRACUDA (Bolstering Awareness with Real-Time Rider Alerting and Cueing for Upcoming Danger Avoidance). 
Small Business: Charles River Analytics
Location: Cambridge, Massachusetts
Project: Roadway Hazard Alert System for Motorcycles
Funding Agency: Federal Highway Administration
Phase I: $149,916
Phase II: $990,757
Phase IIB: $249,847
The Technology
BARRACUDA is an application that connects data provided by motorcyclists with a cloud-based service. It uses an application programming interface (API) to gather data from multiple sources that include rider-reported data, real-time traffic reports, and weather forecasts. The data sources are then combined to create geolocated hazard alerts that are relevant to motorcyclists. 
Such hazards include:
Infrastructure hazards: Problem intersections, blind or sharp curves, and complex merges.
Surface hazards: Potholes, grooves in the pavement, and oil or large puddles on the road.
Obstacle hazards: Tire retreads, animals, and stalled vehicles.
Weather hazards: Fog, wind, rain, snow, hail, low sun, and excessive heat/cold.
"BARRACUDA is more than just a Waze app for motorcyclists; we've determined unique hazards important to the community. We've done significant research to design an experience so riders can safely notice and report hazards while maintaining heads-up, eyes-on-the-road riding." 
- Alessandro Negri, Senior Software Engineer at Charles River Analytics and Technical Lead on the BARRACUDA Effort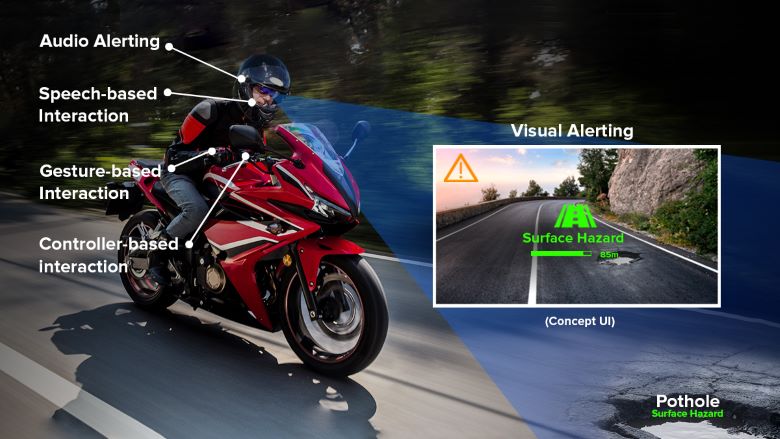 Charles River Analytics released an Android beta version of BARRACUDA in July 2021 as part of the REVER trip-planning and GPS-tracking app for motorcyclists. The company is now developing an iOS version of BARRACUDA, which is scheduled to be released later in 2021. REVER's motorcycle app is currently used by more than a million motorcycle enthusiasts.
The Future
Within a week after the soft launch of BARRACUDA in July, hundreds of hazards were reported from across the globe. This number is expected to keep growing, and Charles River Analytics will then solicit feedback on the user experience.
Charles River Analytics is also working with Everysight, a technology company that is developing augmented reality smart glasses for the motorcycle community. The team has completed a proof of concept with Everysight, showing that BARRACUDA can be successfully integrated into their glasses with a heads-up display (HUD) showing ride data on a screen in front of rider eyes.
Future plans include selling licenses of the technology to motorcycle manufacturers. Charles River Analytics also believes that the database of geolocated hazards could be an asset for technology and insurance companies that need rider, infrastructure, and traffic pattern data. 
The Impact
Looking ahead, Charles River Analytics sees BARRACUDA as an integral part of making road travel safer for motorcyclists. The team may tie information from BARRACUDA's database of hazard information with safety data from the U.S. Department of Transportation to study high rates of incidents in specific hazards and regions.
"Imagine a longitudinal study that ties BARRACUDA users reporting hazards to a decrease in the number of accidents in known dangerous areas," said Dr. Elaine B. Coleman, vice president of Commercialization at Charles River Analytics. "Motorcycle companies are so focused on safety and improving protocols for their community, and we are hoping that this tech will get pushed by industry players to really advance the state of the art and move us into the future."
How SBIR Helps
Getting research and development (R&D) projects out of the lab can be difficult. SBIR awards look to encourage projects to go to the commercial market, and BARRACUDA is doing just that. Through SBIR funding, Charles River Analytics was able to perform R&D alongside industry partners, turning this SBIR prototype into reality in two years. 
"Building products and working with commercial companies helps our company not only diversify our revenue opportunities, but also make a direct impact in the world through our research efforts. BARRACUDA is an example of developing R&D concepts and prototypes that are driven by commercial market needs and opportunity."
- Karen A. Harper, President of Charles River Analytics
About SBIR
The U.S. Department of Transportation's highly competitive Small Business Innovation Research (SBIR) program awards contracts to domestic small businesses to pursue research on and develop innovative solutions to transportation challenges.
Moreover, the SBIR program encourages small businesses to engage in federal research/research and development (R/R&D) that has the potential for commercialization. The program awards contracts in two phases, and it recognizes a third phase leading up to commercialization. See Past Solicitations and Awardees for more information.
Last updated: Thursday, October 21, 2021