Innovations to Mitigate Transportation Noise Impacts on Communities
Wednesday, April 20, 2022
A Curated Collection of the U.S. DOT Volpe Center's Recent Transportation Noise Management Work
The U.S. Department of Transportation (U.S. DOT) Volpe National Transportation Systems Center (Volpe Center) recently released a collection of stories from our 2021 Annual Accomplishments Publication, outlining our innovative work to help transportation agencies understand, manage, and mitigate transportation noise impacts on communities—and make environmentally responsible decisions now and in the future.
Read on to learn about our multimodal work to help mitigate aviation noise, including helicopter and advanced urban air mobility, highway traffic noise, and passenger rail noise.
ENHANCING THE BTS NATIONAL TRANSPORTATION NOISE MAP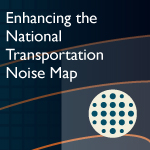 The BTS National Transportation Noise Map provides a national, multimodal view of transportation-related sound level data for an annual average day. To track trends as population and transportation demands increase—and ensure environmentally appropriate levels are not exceeded—U.S. DOT Volpe Center acoustics and geospatial modeling experts worked with BTS to incorporate aviation and road data acoustical inputs and expand the tool's acoustical modeling and GIS capabilities to include passenger rail noise. LEARN MORE.
ADVANCED ACOUSTIC MODELING OF URBAN AIR MOBILITY CONCEPT VEHICLES
The Advanced Acoustic Model (AAM) allows air vehicle designers to project and analyze community sounds and assess future impacts, such as advanced Urban Air Mobility (UAM) expansion. NASA transferred AAM to the U.S. DOT Volpe Center in 2020 to expand and improve the model, and since then U.S. DOT Volpe Center transportation noise experts have expanded its access across the aerospace and transportation industry—and enhanced the tool to analyze higher fidelity noise from UAM vehicles. LEARN MORE.
FAA MAKES ENVIRONMENTALLY RESPONSIBLE DECISIONS USING AEDT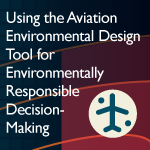 FAA uses the Aviation Environmental Design Tool (AEDT) to understand the noise and emissions changes associated with operational and procedural changes, to inform policy discussions, and to quantify emissions reductions associated with the replacement of airport equipment. With support from the data scientists and software developers at the U.S. DOT Volpe Center, AEDT allows FAA to make environmentally responsible decisions to improve the safety and efficiency of the national airspace, while being responsive to community concerns on aircraft noise. LEARN MORE.
FLY NEIGHBORLY AIMS TO REDUCE HELICOPTER NOISE NEAR COMMUNITIES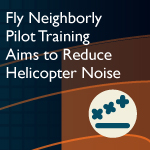 The Fly Neighborly program aims to create better relationships between communities and helicopter operators by equipping pilots with noise abatement procedures and situational awareness tools to minimize the impact of helicopter noise. FAA and the U.S. DOT Volpe Center collaborated with NASA in the planning and execution of helicopter acoustic flight tests. Based on the information and noise data obtained through these tests, U.S. DOT Volpe Center experts developed operational noise training material currently in use nationwide. LEARN MORE.
USING TNM TO MITIGATE HIGHWAY NOISE IMPACTS ON COMMUNITIES
FHWA's Traffic Noise Model (TNM) helps states determine when highway barriers can feasibly and reasonably be used to help mitigate the impacts of traffic noise. The U.S. DOT Volpe Center has been involved with data collection and development of TNM since its original release in 1998, and U.S. DOT Volpe Center experts continue to help improve the tool and provide support to the TNM user community. FHWA released TNM version 3.1 in January 2022, which features improvements to the analysis workflows. LEARN MORE.
AGGREGATING DATA SOURCES TO IMPROVE VEHICLE EMISSIONS AND TRAFFIC NOISE ANALYSES
FHWA created the Database for Air Quality and Noise Analysis (DANA) tool to combine highway traffic data from existing data sources into a single database and then process those data into properly formatted inputs to EPA's Motor Vehicle Emission Simulator model and FHWA's Traffic Noise Model Aide. Since early 2020, U.S. DOT Volpe Center analysts have supported FHWA to enhance and update the DANA tool for its initial public release in July 2021. The DANA tool reduces the burden on state DOTs and MPOs for data processing and greatly simplifies traffic data input, enabling the use of real-world, real-time inputs used consistently nationwide. LEARN MORE.
About the U.S. DOT Volpe Center
Celebrating more than 50 years of federal service to the nation, the U.S. DOT Volpe Center's mission is to transform transportation for all.