Fly Neighborly Pilot Training Program Aims to Reduce Helicopter Noise Near Communities
Wednesday, April 20, 2022
Helicopter noise can be a concern in communities and metropolitan areas across the United States. In particular, New York City and the Los Angeles Basin are struggling to find noise-reducing solutions for helicopter tour and charter companies, as well as police and air ambulance operations.
Fly Neighborly is a voluntary noise reduction program created by Helicopter Association International (HAI) with support from FAA. It seeks to create better relationships between communities and helicopter operators by establishing noise mitigation techniques and improving communications.
Fly Neighborly training equips pilots with noise abatement procedures and situational awareness tools they can use to minimize the impact of helicopter noise. Helicopter-model-specific noise abatement recommendations have been developed by the U.S. DOT Volpe Center in support of FAA's Office of Environment and Energy, in collaboration with NASA.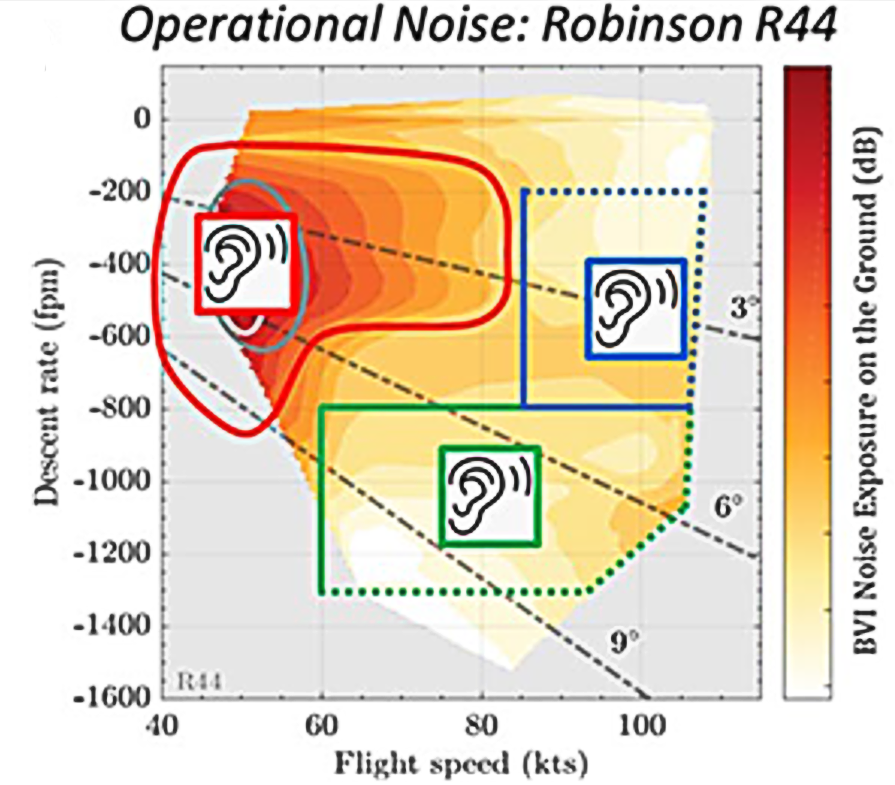 To date, FAA and the U.S. DOT Volpe Center collaborated with NASA in the planning and execution of helicopter acoustic flight tests involving nine different helicopter models. The joint research resulted in a series of operational noise plots that provide guidance on reducing overall noise levels over a wide area, and directional (left-center-right) operational noise plots, which can be used to tailor noise reduction in specific areas relative to the flight operation. Based on pilot and operator feedback, the higher-fidelity directional operational noise training material has now been developed to supplement the program.
The U.S. DOT Volpe Center experts also developed and produced the content of online Operational Noise training eLearning modules for each of the tested helicopter models. The new training modules are based on higher-fidelity analysis of the empirical acoustical data and enable pilots to employ reliable and accurate decision-making during pre-flight planning and in flight. This process will help operators better operationalize the link between the helicopter's flight condition and its noise emission. The training also addresses safety, pilot workload, passenger comfort, as well as environmental justice and other sensitive land-use considerations.
The modules provide actionable training for pilots and operators to help meet the needs of their local communities. The training modules are designed to help pilots anticipate the directional noise generated by the helicopter under different operating conditions. Pilots can then assess flight path, airspeed, approach descent rate, and deceleration rate to optimize flight patterns, during both the pre-flight planning stage and during real-time flight operations.
In June to November 2021, Fly Neighborly training webinars were held covering model specific noise abatement techniques for the Robinson R44, the Airbus AS350, and the Bell 407 helicopter models. These were hosted by HAI and attended by more than 600 people. Since 2018, the Introduction to Fly Neighborly training module has been completed by more than 670 people, and the Fly Neighborly auditory techniques module on the HAI Academy online training venue has been accessed by 145 people.
Additional eLearning modules are under development, planned for completion in fiscal year 2022, and will be hosted on HAI Academy. Live operational noise training classes covering the Bell 205, Sikorsky S-76D, Leonardo AW139, and Robinson R44 and R66 were recently presented as part of the Rotor Safety Challenge during HAI HELI-EXPO in March 2022.
*This story appeared in the U.S. DOT Volpe Center's January 2022 publication: The U.S. DOT Volpe Center's 2021 Annual Project Accomplishments.
Celebrating more than 50 years of federal service to the nation, the U.S. DOT Volpe Center's mission is to transform transportation for all.