Enhancing the BTS National Transportation Noise Map
Wednesday, April 20, 2022
According to recent U.S. Census forecasts, the U.S. population is expected to grow by 79 million people by 2060, and will cross the 400-million mark in 2058. This anticipated growth will increase the already high demand for different transportation modes. As demand increases, transportation-related noise will also change, which must be monitored to ensure environmentally appropriate levels are not exceeded. To meet this challenge, BTS initiated a national, multimodal transportation noise mapping initiative to track trends in transportation-related noise by mode collectively over time.
Because transportation noise is regulated by individual mode and most often analyzed on small areas, observing trends in transportation-related noise sources from different modes using the same national-level noise metrics can provide valuable insights. Example use cases for these data include analyzing the equity of potential noise impacts from transportation sources and analyzing changes in potential noise exposure due to changes in fleet or traffic patterns.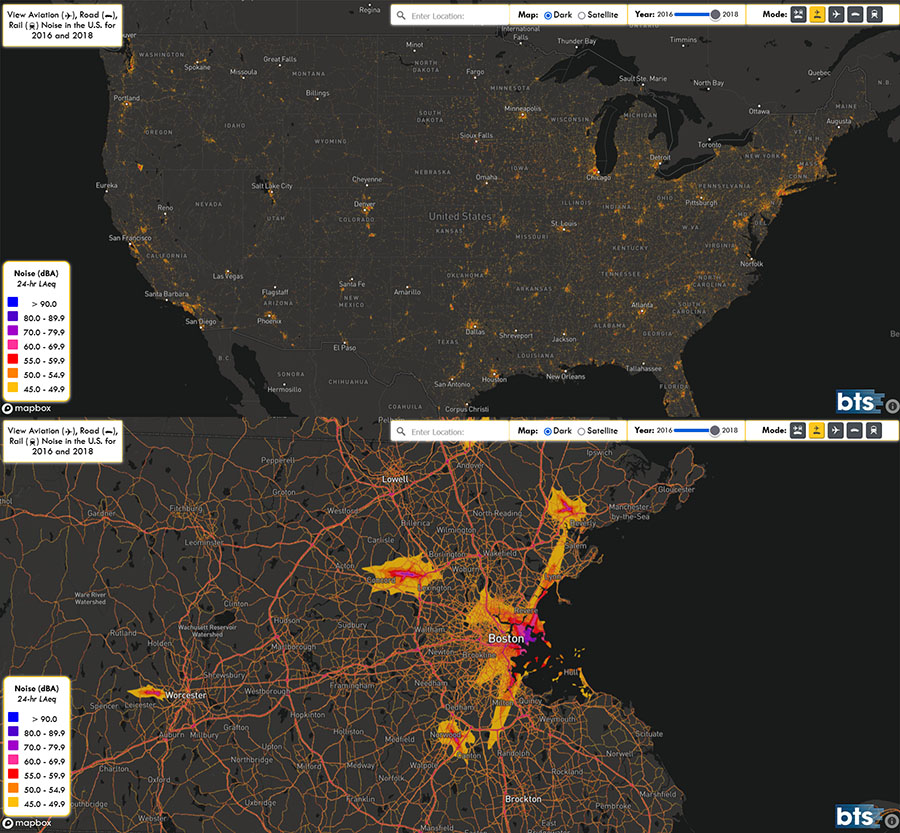 In 2017, BTS launched the National Transportation Noise Map to track trends in transportation-related noise, both individually by mode and collectively over time at the national level. The multimodal context this map provides can be used to better understand trends in transportation-related noise and highlight areas that may benefit from more detailed analysis. The map can also be used by researchers for a variety of analyses that would otherwise not have access to noise data.
In support of the original launch, a U.S. DOT Volpe Center team developed the first phase of the multimodal National Transportation Noise Mapping Tool, integrating aviation and road acoustics modeling results with GIS to create national, noise level layers for each mode and for combined modes. These innovations enabled a national view of noise levels for an annual average day for both aviation and road noise sources on a single map.
In November 2020, BTS released the first biennial update of the National Transportation Noise Map. The aviation and road modes were updated to include 2016 and 2018 data, and a prototype layer for passenger rail sources was introduced for 2018 only. The addition of a passenger rail prototype layer is particularly significant because the U.S. DOT Volpe Center team created modeling software for passenger rail noise based on FTA and FRA guidance materials and spreadsheet tools.
A team of U.S. DOT Volpe Center experts led the acoustics and geospatial modeling efforts and participated in outreach activities, including briefing stakeholders from U.S. DOT Office of the Secretary (OST), FAA, FHWA, FRA, FTA, and BTS.
*This story appeared in the U.S. DOT Volpe Center's January 2022 publication: The U.S. DOT Volpe Center's 2021 Annual Project Accomplishments.
Celebrating more than 50 years of federal service to the nation, the U.S. DOT Volpe Center's mission is to transform transportation for all.