Significant Software Update to Aviation Environmental Design Tool (AEDT) Expands Modeling Capabilities
Friday, October 4, 2019
AEDT is a modeling software package used by the FAA, aircraft manufacturers, aviation planners, and other aviation stakeholders to calculate aircraft fuel burn, emissions, and noise for flights gate-to-gate. It can be used to evaluate the performance of individual flights, airports, or complex interactions on a global level. The FAA has required use of AEDT to model these impacts since 2015. 
The latest version, AEDT 3b, expands the range of scenarios that can be modeled, and includes bug fixes and usability improvements.
AEDT analyzes numerous pieces of data, including airplane taxi delay and sequencing; emissions dispersion from curved flight tracks; noise, emissions, and emissions dispersion metrics from legacy analysis tools; and many other flight characteristics.

Above: A screenshot of AEDT shows flight noise impacts. (Volpe Center photo) 
AEDT Version 3b introduces several new features, including:
Ability to utilize alternative weight and reduced thrust departure profiles;
Ability to calculate aircraft performance using EUROCONTROL's Base of Aircraft Data (BADA) Family 4, which provides improved modeling fidelity in the terminal area and enables computation of noise and emissions from sophisticated user-defined flight procedures;
Supported use of dynamic grids for both system and user-defined noise metrics;
Support for U.S. EPA's three-tiered screening approach to 1-hour NO2 emissions dispersion modeling; and
Use of 1-minute and 5-minute Automated Surface Observing System (ASOS) weather data.
Learn more about AEDT
AEDT is developed and supported by engineers and analysts in the U.S. DOT Volpe Center's Environmental Measurement and Modeling Division.
The Volpe Center periodically hosts in-person training sessions on the AEDT software at its state-of-the-art facility in Cambridge, Massachusetts. The next multi-day training session is scheduled for October 23-25, 2019.
For more information, or to enroll in the training, visit the AEDT training page. To stay informed about upcoming trainings, submit your email address.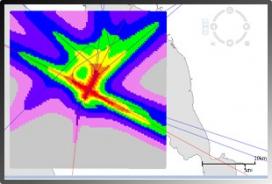 A detail from a screenshot of AEDT shows flight noise impacts. (Volpe Center photo)