The U.S. DOT Volpe Center Welcomes New Technical Center Director: Jonathan Walker
Friday, January 6, 2023
The U.S. DOT Volpe Center is pleased to announce that Jonathan Walker, PE, PhD has joined us as director of our Center for Communications, Navigation, Surveillance Systems, and Engineering. The U.S. DOT Volpe Center organizes its 600+ staff members into four technical centers that collaborate with our sponsors to support 300+ projects a year, focused on delivering a safer, more efficient, more sustainable, and more equitable transportation system.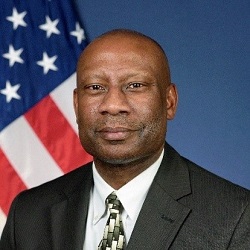 Walker will provide executive leadership and strategic direction over the Center for Communications, Navigation, Surveillance Systems, and Engineering, which is made up of five offices. Each team works together to specialize in a different facet of air traffic operations work, from operational systems development to facility modernization, from safety management documentation to GPS and spectrum research and evaluation, and from research to deployment of the integration of unmanned aircraft systems and advanced air mobility into the National Airspace System.
In addition to this expansion of our leadership team, the U.S. DOT Volpe Center is in the middle of a hiring surge with 186 new employees hired and onboarded since spring 2020. Find out more at www.volpe.dot.gov/careers.  
"Jonathan's experience, perspective, and expertise—from his extensive engineering background to his Marine Corps service—make him perfectly suited to lead our team and direct our work in real-time communications, navigation, surveillance, and decision-support systems," said U.S. DOT Volpe Center Director Anne Aylward. "We're thrilled for him to not only lead our FAA portfolio as we support the Administration's vision to deliver the safest, most efficient transportation system in the world—but also help our team of Volpe experts apply lessons learned from aviation across other transportation modes." 
Most recently, Walker served as the acting director in the Office of Corporate Research, Technology & Innovation Management at the Turner-Fairbank Highway Research Center for FHWA. He and his staff provided corporate oversight on all FHWA Research and Technology programs. Walker also led support program integration, analysis, and partnership programs such as the Annual Modal Research Plan, the Transportation Pooled Fund Program, the State Planning and Research Program, the Exploratory Advanced Research Program, and the Small Business Innovative Research Program. 
Prior to this work, Walker served as chief of Policy, Architecture, and Knowledge Transfer at the Intelligent Transportation System – Joint Program Office (ITS-JPO). He provided senior level leadership for the Emerging and Enabling Technology Program and U.S. DOT's Wireless Spectrum Research Program. Walker joined FHWA in 2014 as a transportation specialist at FWHA's Office of Operations, and he has held a variety of roles, which include chairing the Office of the Assistant Secretary for Research and Technology (OST-R) Artificial Intelligence Task Force and the Emerging and Enabling Technology Working Group, and serving both on a part-time detail at NHTSA and on FHWA's Diversity Management Committee.  
Before joining U.S. DOT, Walker managed staff working on several high-visibility projects in rail and bus engineering at the Washington Metropolitan Area Transit Authority. In the mid-80s, his career began in avionics as an electronic technician on the RF-4BN photo-reconnaissance aircrafts as a Sergeant in the U.S Marine Corps, in El Toro, CA, and in Iwakuni, Japan. 
Walker received a PhD in Transportation Engineering from Virginia Tech University (Blacksburg, VA), a MS in Biomedical Engineering from Johns Hopkins University (Baltimore, MD), and a BS in Electrical Engineering from Howard University (Washington, D.C.). He served four years in the U.S Marine Corps and is a licensed professional engineer in MD, VA, and D.C. 
"I'm looking forward to leading this experienced team as we work together to serve the American people and economy through the safe, efficient, sustainable, and equitable movement of people and goods," said Walker. "I'm inspired by the legacy of the U.S. DOT Volpe Center, and I'm excited to be a part of its bright future." 
About the U.S. DOT Volpe Center  
Celebrating more than 50 years of federal service to the nation, the U.S. DOT Volpe Center's mission is to transform transportation for all.   
We're Hiring:  Learn more about our open job opportunities, our commitment to equity, and what it's like to work at the U.S. DOT Volpe Center.