The U.S. DOT Volpe Center Seeks Student Interns
Friday, October 27, 2023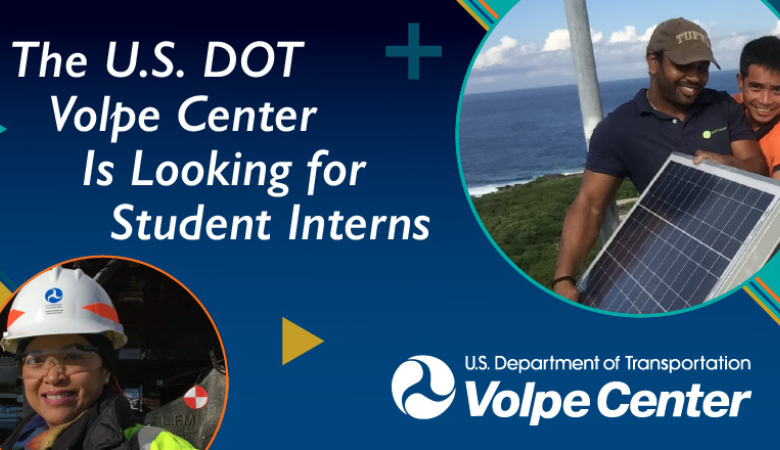 The U.S. DOT Volpe Center is now recruiting talented individuals to join our team as part of our 2024 Volpe Pathways Internship Program. Interested students can apply via the Pathways Internship job posting on USAJobs.gov, which opened Thursday, October 19, 2023 and is expected to close on Friday, November 10, 2023.  
Available student trainee positions include the following: 
Community Planners  
Computer Scientists 
Data Scientists 
Economists 
Engineering Psychologists 
Environmental Protection Specialists  
General Engineers  

Aerospace 
Computer and Electrical 
Environmental  
Mechanical
Civil

Operations Research Analysts 
Policy Analysts 
Program Support Assistants 
Interested applicants should review the list of available positions and educational requirements before applying. For the full job listing, instructions, and how to apply, visit usajobs.gov. 
Pathways positions are expected to begin May 2024. However, some selected positions may begin as early as January 2024. Remote duty stations are available. 
Application Tips 
Apply early. Applications will be accepted through usajobs.gov from Thursday, October 19, 2023, through Friday, November 10, 2023. 
Give detail. Provide a descriptive resume, fully explain your experience. 
Be thorough. Include all transcripts past and present. 
Be current. Provide proof of fall 2023 school enrollment. 
Be specific. As a part of the "Apply Online" process, before you submit your application, you will be asked to specify the occupations for which you are applying. Your application must include documentation that shows you meet individual series and education requirements listed here. 
For more application tips, read Tips for Applying to U.S. DOT Jobs. 
U.S. DOT strives to ensure that equity, transparency, accountability, collaboration, and communication permeate all that we do for the betterment of the Department, the traveling public, and our nation. As such, U.S. DOT values a highly diverse workforce of persons who promote a culture of belonging by respecting the personal dignity and worth of each individual and fostering a positive environment where all feel safe and welcome. If these commitments coincide with your personal ideals and professional aspirations, please consider joining the U.S. DOT family. 
About the U.S. DOT Volpe Center 
The U.S. DOT Volpe Center is located in Kendall Square in the culturally diverse and academically rich city of Cambridge, MA. We offer competitive benefits and a flexible, family-friendly work environment. For our 2024 Pathways program, location is negotiable upon selection. 
To learn more about careers at the U.S. DOT Volpe Center, visit Student and Recent Graduate Opportunities. 
Questions? Contact Volpepathways@dot.gov. 
Celebrating more than 50 years of federal service to the nation, the U.S. DOT Volpe Center's mission is to transform transportation for all. 
 
We're Hiring: Learn more about our open job opportunities, our commitment to equity, and what it's like to work at the U.S. DOT Volpe Center.