Realizing Self-Driving Vehicles
Thursday, January 7, 2016
Stop and think about the precision hand-eye coordination it takes to maneuver an eighteen-wheeler full of heating oil around a stalled vehicle. Think about aging or visually impaired Americans who cannot drive but still need to run errands and go to appointments.
For Chris Urmson, co-founder of Google's self-driving car program, automation has a wholly transformative potential to change transportation. He equates the number of people killed in car crashes every year to a commercial jet plane falling out of the sky five days a week.
"The one saving grace we have is that 94 percent of those accidents are caused by human error," said Urmson, who spoke as part of Volpe's Reimagining Transportation series. "We have an opportunity through building software and systems that are going to pay attention 100 percent of the time, and are going to be able to respond quickly, to try and reduce those accident rates."
The Software Foundation of a Self-Driving Car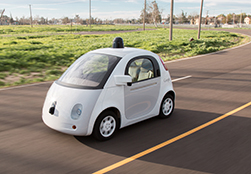 The most recognizable part of Google's self-driving car program is the real-world testing that began in 2015 on the roads of Mountain View, California. These cars travel more than 10,000 miles every week—approaching an average year of human driving—at no more than 25 miles per hour.
Back at the computer bench, Google does more than 3 million miles of simulation testing daily. To round out this trove of naturalistic and simulated data, there is a team at Google that thinks up abnormal situations, such as a pedestrian crossing in front of a self-driving car while holding a giant rubber ball.
"We go out and we do all these different families of testing to get the software to the point where we're confident in it," Urmson said.
Thinking Like a Human
One thing that people are particularly good at (when they have their eyes on the road) is recognizing and adapting to unusual situations. In addition to highly detailed maps that tell Google's cars where they are, these vehicles use their sensors to see and are learning how to expect the unexpected.
"In the instance, the car has a model of what the world around it looks like," Urmson said. "That's great, but turns out if you drive based on where everybody is right now, you're going to have a bad day. So, the car has to be able to predict what's happening."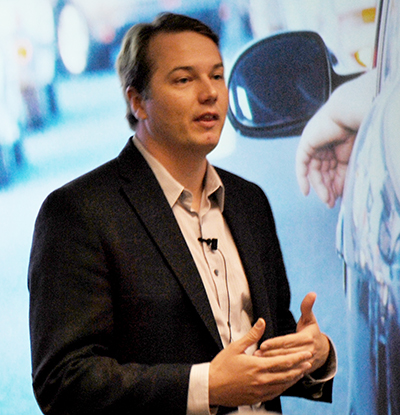 A driver's brain processes enormous amounts of information every second and makes the best decisions it can based on all that input. For instance, if a driver approaches orange cones surrounding a road crew using jackhammers, that means it's time to switch lanes. Self-driving cars need to have enough information—enough driving experience through real-world and simulation testing—to do the same.
But, just like human drivers, Google's self-driving car will come across situations it has never seen before: a bird that flies right in front of a windshield, a bicycle built for a half-dozen people, cars crossing lanes without warning, and vehicle doors suddenly opening into traffic.
"What our software has to be able to do is be able to say, 'This is not normal. This is what we call an anomaly,'" Urmson said. "And, just give it a little more space."
The Automated Future Is an Open Road
As the data piles up, a world in which self-driving cars are the norm and fatalities can be dramatically reduced is becoming less and less farfetched. But, there is still the human element to consider. Just because a technology is plausible does not mean it will be broadly accepted. Real roads full of self-driving cars will only become a reality if there is a wholesale rethinking of what it means to drive.
"The idea is that you'll get in [self-driving cars], tell them where you want to go, they'll take you there and then get out," Urmson said. "You effectively are moving people from being the helmsman to the captain of the ship, which we think is empowering."
Watch Video Highlights of the Event