Follow Your Passion and Push the Boundaries: Perspectives from Volpe's 50th Anniversary Federal Women's Program Alumnae Panel
Thursday, September 24, 2020
While today's U.S. Department of Transportation Volpe National Transportation Systems Center (U.S. DOT Volpe Center) workforce is now 42 percent women, it was a different era when some pioneering technical staff joined the Center in the 1970s and 1980s—according to perspectives shared during a special panel event sponsored by the Volpe Center's Federal Women's Program (FWP).
"Today at Volpe, many of the top senior positions are occupied by women—qualified, dynamic, smart, and forward-thinking women," said U.S. DOT Deputy Assistant Secretary for Research and Technology Diana Furchtgott-Roth, who kicked off the event with Anne Aylward, Volpe Center director since 2016 and the first woman to serve as Volpe director. 
The virtual event featured four Volpe Center alumnae who have left their marks on the national and global transportation system. Originally slated for Women's History Month in March, but rescheduled due to COVID-19, the June 30 panel was part of the Volpe Center's 50th anniversary celebration.
More than 130 Volpe Center staff and alumni attended this event, organized by the Center's FWP Manager Anne Gates. Gates, an electronics engineer supporting FAA's integration of Automatic Dependent Surveillance-Broadcast into the National Airspace System, is concluding her four-year tenure as leader of Volpe's FWP, which has been a part of the Volpe Center's culture since 1972.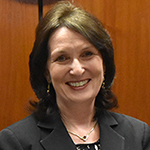 The distinguished panel, moderated by Kim Cardosi, PhD, Volpe's principal technical advisor in aviation human factors, included Mary Stearns, PhD, former division chief and principal technical advisor in human factors; Karen Van Dyke, U.S. DOT Director for Positioning, Navigation, and Timing (PNT) and Spectrum Management; Jane Lappin, former senior program manager of the autonomous vehicles policy research program; and Ruth Hunter, former principal technical advisor in logistics and emergency management systems.
Each shared insights into her experiences at U.S. DOT, perspectives on pursuing a career in transportation, advice on overcoming on-the-job challenges, and opportunities associated with times of transition and change. All encouraged aspiring women leaders in transportation to push the boundaries and follow your passion.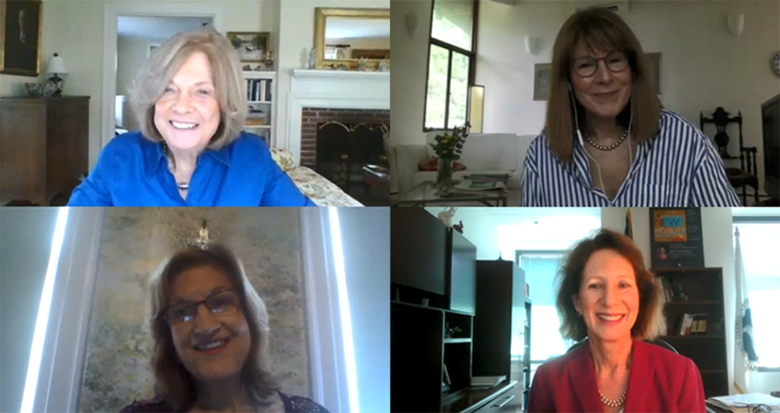 Leading Roles in Transportation
"We all should be proud of the leading role that women play in transportation," said Furchtgott-Roth. "Thank you for being role models. Thank you for your commitment to your community and to Volpe and to the future of transportation."
Mary Stearns, PhD
Among those leaders in transportation is Dr. Stearns, who joined the Volpe Center in the 1970s.
"Really, the foundational aspects of the Volpe Center have not changed, and these are the important things: the focus on teamwork, the focus on your responsibility to your sponsor, and the willingness of everyone to pitch in when particular projects have a need," said Dr. Stearns.
While at the Volpe Center, Dr. Stearns was the founding executive agent for U.S. DOT's Human Factors Coordinating Committee and led a groundbreaking program to develop the first generation of embedded automotive technology to monitor driver state and alert distracted drivers.
Since retiring from the Volpe Center, Dr. Stearns works as a lecturer in the Human Factors Engineering program at Tufts University, where she co-teaches Engineering Forensics (with Volpe Center human factors researcher J.K. Pollard), which uses case studies to demonstrate the need to apply human factors to enhance transportation safety.
Karen Van Dyke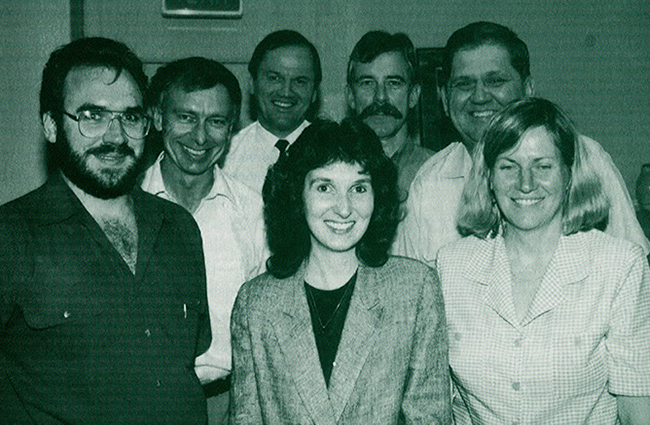 Van Dyke has been involved in navigation-related programs at the Volpe Center for more than 25 years and currently is responsible for overseeing the navigation program and development of policy positions on PNT and spectrum in coordination with the Office of the Secretary of Transportation. 
Van Dyke joined Volpe "at the ripe age of 22," having just graduated from the University of Massachusetts at Lowell with her BS and MS in electrical engineering. 
Van Dyke would go on to work on the launch of the first operational GPS satellite, co-author a seminal report on the vulnerabilities of GPS in transportation, and serve as president of the Institute of Navigation.
Jane Lappin
"I was struck by how supportive all of the team members were for one another," said Lappin, who began her career at the Volpe Center as an onsite contractor and later joined the civil service.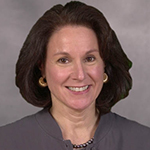 Much of Lappin's work supported U.S. DOT's Intelligent Transportation Systems Joint Program Office. She assessed the impact of advanced traveler information services on trip decisions, influenced the establishment of—and then managed—the ITS international research exchange programs, organized the first Automated Vehicles Symposium, and launched the Volpe Center's autonomous vehicles policy research program.
At one point in her Volpe Center career, Lappin was being recruited by a transportation company for which she said she would have dearly loved to work.
"I measured the difference, and I realized that I could not put a price on the intellectual freedom, the professional support, and the incredible camaraderie that I had found at Volpe, and so I stayed," Lappin said.
Ruth Hunter
When she entered Boston University College of Engineering, Hunter had the distinction of being the only woman undergraduate in her aeronautical engineering class.
In a career that spanned more than 40 years at the Volpe Center, her groundbreaking work ranged from planning the transport of critical equipment for search-and-rescue and emergency response teams in the wake of the September 11, 2001, terrorist attacks to tracking the spread of infectious diseases through international air travel.
Hunter wrote dozens of reports on topics including maritime operations and reducing airport congestion. Before retiring, she was the Volpe Center's principal technical advisor in logistics and emergency management systems.
To learn more about the U.S. DOT Volpe Center's 50th anniversary program, please contact Director of Strategic Initiatives Ellen Bell. 
Celebrating 50 years of transportation innovation for the public good, the U.S. DOT Volpe Center's mission is to help the transportation community navigate its most challenging problems.