Nonmotorized Transportation Pilot Program Yields Striking Results
Tuesday, June 24, 2014
If you build integrated walking and bicycling networks into a community's transportation system, will people use it? 
That's what Congress wanted to know nearly a decade ago when it established the Nonmotorized Transportation Pilot Program (NTPP). Through NTPP, the Federal Highway Administration (FHWA) provided over $25 million each to four pilot communities to construct pedestrian and bicycle infrastructure projects and programs.
FHWA and the pilot communities drew on Volpe's expertise in evaluation design methods and multimodal planning to evaluate the results of NTPP and report this assessment to Congress.
The Challenge
Bicycling and walking can become a vital part of any transportation system. Elected officials, planners, and the public are interested in the benefits of a switch from driving to walking and bicycling. This can include improving access to important destinations, reducing harmful emissions, and improving health from physical activity.
But without evidence-based demonstrations and analysis, it is difficult for transportation agencies to justify investing in walking and biking as alternatives to driving.
The Solution
Pilot programs can assist agencies across the country in considering a wide range of transportation alternatives. Pilots can provide ideas for successful projects and assistance with evaluation of potential benefits and later results.
The four NTPP pilot communities—Columbia, Missouri; Marin County, California; Minneapolis area, Minnesota; and Sheboygan County, Wisconsin—represent a cross-section of American cities. They are geographically, demographically, and climatically diverse, and range from a college town (Columbia) to a large, metropolitan city (Minneapolis).
As part of this pilot program, each community implemented its own strategy:
With assistance from Volpe, FHWA, the pilot communities, the Rails-to-Trails Conservancy, and the Centers for Disease Control and Prevention formed a working group to oversee an eight-year evaluation of NTPP.
Volpe led the design of a consistent, implementable, and sustained evaluation program that relied on a combination of directly collected data and supplementary national, state, and local data sources. Volpe also worked closely with the four communities to develop qualitative evaluations of individual NTPP projects and to assess how the program has affected local planning.
The Impact
Each pilot program resulted in permanent transportation additions in the four communities, and the results are striking. These pilots show that integrated, active transportation systems are successful and beneficial when they are conscientiously designed and implemented.
According to estimates, over the course of the program, the communities:
Experienced a 22.8 percent increase in walking trips and 48.3 percent increase in bicycling trips.
Avoided 85.1 million vehicle miles traveled, saving an estimated 3.6 million gallons of gasoline and avoiding approximately 34,629 tons of CO2 emissions.
Expanded 1/4-mile access to the bicycle network for approximately 240,000 people, 106,000 housing units, and 102,000 jobs.
Observed a 20 percent decline in the number of pedestrian fatalities and a 28.6 percent decline in the number of bicycle fatalities despite increases in walking and bicycling.
Experienced improved public health according to the Centers for Disease Control and Prevention, including a reduced economic cost of mortality (death) of $46.3 million from bicycling in 2013.
Perhaps more significantly, NTPP helped expand the body of knowledge for nonmotorized transportation data collection and evaluation. These tools, methods, and reporting techniques are now available for other communities to adopt.
Read the 2014 report: Nonmotorized Transportation Pilot Program: Continued Progress in Developing Walking and Bicycling Networks.
Customer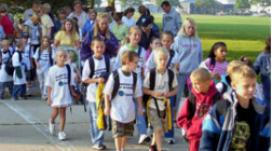 Federal Highway Administration