Pilot Program Promotes Mode Shift to Walking, Biking
Friday, August 10, 2012
The results of a pilot program intended to increase nonmotorized transportation showed that people walked or biked an estimated 32 million miles that they would have otherwise driven, suggesting that community planners should seriously consider "active" transportation as an integral solution for reducing congestion and improving the environment.
The Nonmotorized Transportation Pilot Program (NTPP), established by Congress in 2005, authorized the Federal Highway Administration to provide $25 million each to four pilot communities to construct networks of pedestrian and bicycle infrastructure facilities that connect to public transit, schools, residences, businesses, recreation areas, and other community services. The goal of the program was "to demonstrate the extent to which bicycling and walking can carry a significant part of the transportation load, and represent a major portion of the transportation solution."
The four pilot communities—Columbia, Missouri; Marin County, California; Minneapolis, Minnesota; and Sheboygan County, Wisconsin—are geographically, demographically, and climatically diverse, and range in profile from a college town (Columbia) to a densely developed city (Minneapolis). Each community identified and implemented investments and strategies to incorporate nonmotorized transportation that met the community's unique characteristics through specific regional initiatives:
​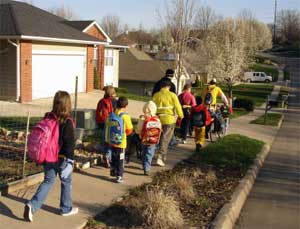 Key to the program—and written into the law that authorized NTPP—was measuring the resulting shifts in travel behavior and assessing how those shifts decreased congestion and energy usage, increased the frequency of bicycling and walking, and promoted better health and a cleaner environment.
The results were significant. The FHWA recently submitted its findings to Congress in a report that was written together with Volpe, The National Transportation Systems Center. The report—which has since been highlighted in various media such as Forbes Magazine and the Public Roads journal—shows that between 2007 and 2010, in addition to large increases in miles walked and biked, the following changes took place:
Over 30.8 million pounds of carbon dioxide emissions were averted and 1.67 million gallons of gasoline were conserved.
Bicycling as a mode share of transportation increased 36 percent, walking increased 14 percent, and driving decreased 3 percent.
In spite of increased numbers of bicyclists and pedestrians, fatal bicycle and pedestrian crashes held steady or decreased in all of the pilot communities.
The increase in physical activity from bicycling in 2010 alone reduced what the Centers for Disease Control and Prevention estimated as the "the economic cost of mortality" (death) by $6.9 million.
"[Before NTPP,] I think there was not a broad understanding of the significant potential that walking and biking can play in an overall transportation system," said William Lyons, Volpe's principal technical advisor for transportation planning. "These non-recreational trips have a broad benefit because they have the potential to substitute for single-occupancy-vehicle trips, thereby producing energy savings, reductions in emissions, and increased health benefits from physical activity."
Volpe played a major role in the report to Congress, working with FHWA's Office of Human Environment, the pilot communities, and other project partners, including the U.S. Centers for Disease Control and the Rails to Trails Conservancy, to evaluate the results of NTPP.
Volpe's team includes community planners with expertise in evaluation design methods and analysis, and multimodal transportation planning—particularly "active" transportation (walking and biking).
Given the project's initial success, FHWA, Volpe, and the pilot communities are continuing to collaborate on data collection, analysis, and reporting through 2013—past the first phase required by Congress. This follow-up phase is targeting improved connections to transit, social equity (particularly for disadvantaged communities), and economic benefits to the community.
"The four communities were really committed to their role as pilots and to the importance of learning and benefitting peers around the country," said Lyons. "I think other communities will appreciate the potential of a concerted effort to support active transportation and set it as part of an overall transportation system."
---
Photo above: The nationally recognized Columbia Walking School Bus has over 400 children participating on 40 routes at 15 schools. Walking routes generally start in a neighborhood within one mile of school and follow streets determined by the home locations of participating children. (GetAbout Columbia photo)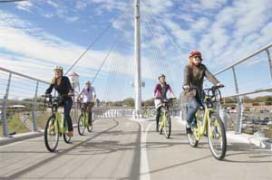 Bicyclists in Minneapolis using the Nice Ride Minnesota bicycle share. An example of a successful public-private partnership, Phase 1 capital funding for the program came from Bike/Walk Twin Cities, Blue Cross Blue Shield of Minnesota, the city of Minneapolis and the Nonmotorized Transportation Pilot Program. (Bike/Walk Twin Cities photo)