Laying the Foundation for Vehicle-to-Pedestrian Communications
Monday, February 20, 2017
When a car hits a pedestrian, the pedestrian takes the full brunt of the severe and sometimes fatal injuries. Between 2014 and 2015, pedestrian fatalities in the U.S. increased by 9.5 percent.
Vehicle-to-pedestrian (V2P) communications can help avoid impacts or reduce the consequences when light vehicles—10,000 pounds or less—collide with pedestrians.
Volpe experts analyzed data from national crash databases that code hundreds of thousands of real crashes to help the National Highway Traffic Safety Administration (NHTSA) understand the scenarios that lead up to vehicle-pedestrian crashes and how V2P technology can help avoid them.
V2P-based crash avoidance systems use wireless communication to transfer information between vehicles and pedestrians using dedicated short-range communications, Wi-Fi, global positioning system (GPS) tracking via cellular networks, or other wireless technologies.
"A firm understanding of the scenarios that lead to vehicle-pedestrian crashes is the basis for systems that can make drivers and pedestrians more aware of each other," said Wassim Najm, chief of Advanced Vehicle Technology at Volpe. "With more awareness, crashes may be less severe or avoided entirely."
V2P communications can help make drivers and pedestrians aware of each other, and avoid potential collisions.

V2P communications could be helpful in busy environments where pedestrians and vehicles often share the road, such as New York City. (Philipp Oscity/123RF photo)
To minimize interventions based on false positives, V2P systems must also be able to discern between driving situations where a crash is imminent and benign driving conditions.
Volpe researchers identified five priority pre-crash scenarios that make up 91 percent of fatal crashes between light vehicles and pedestrians, where the first event in the crash is the vehicle striking a pedestrian:
Vehicle going straight and the pedestrian crossing the road
Vehicle going straight and the pedestrian in the road
Vehicle going straight and the pedestrian adjacent to the road
Vehicle turning left and the pedestrian crossing the road
Vehicle turning right and the pedestrian crossing the road
This project lays the foundation for new V2P safety applications by identifying research areas and knowledge gaps.
NHTSA will use Volpe's work to improve the effectiveness of V2P crash avoidance and advance V2P technologies that can compensate for limitations of vehicle-based pedestrian crash avoidance systems that use radar, Lidar, or vision sensors.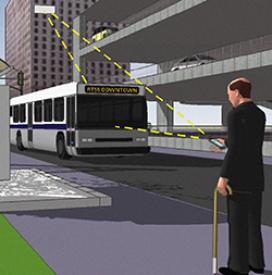 Vehicle-to-pedestrian-based crash avoidance systems use wireless communication to transfer information between vehicles and pedestrians. (Volpe image)