Inside TRB's New Policy Research on the Transportation Sharing Economy
Thursday, January 7, 2016
What do you call those mobile applications that let you hail a ride on your smartphone and watch an interactive map as the driver and car approach your location? Maybe Uber, or Lyft, or any of those companies' competitors.
More generally, they're called transportation network companies (TNCs), and governments at the city and state levels have been discussing for years how—and whether—to regulate them.
Now, the Transportation Research Board (TRB) is offering guidance in the form of a policy paper, titled Between Public and Private Mobility, which dives into trends in TNC growth, traditional taxi regulatory schemes, labor and employment issues, public safety, and paths for further policy research.
"A couple of years ago, the TRB executive committee recognized the transportation network companies were just really starting to develop," said TRB Executive Director Neil Pedersen, who spoke recently at Volpe. "They said, 'We really need to get in here and address this from a policy perspective.'"
How Ridesharing Companies Are Impacting Transportation Networks
Pedersen presented several conclusions from TRB's report on how ridesharing companies are impacting transportation networks. The first conclusion is that innovative mobility services are expanding travel choices and are widely embraced by millions of travelers.
But, there may be many who are left out. If TNCs continue to expand, they may worsen the digital divide between those who have and those who do not have access to bank accounts and mobile devices—but they may also increase mobility for low-income populations and older people.
From a regulatory perspective, TNCs present a much greater challenge than do traditional taxi companies, which are often small and geographically bound. TNCs are large entities that operate globally, and some aspects of regulation—such as labor standards and background checks—may be more logical to tackle at the national level.
Overall public safety also remains an essential but unresolved issue.
Innovation in shared mobility may also change long-term travel and land-use patterns: If people who previously drove themselves now ride with others, what implications will that have for where people live and work?
Finally, for people with disabilities, regulated taxis offer a critical lifeline. Without a public policy response, a decline in traditional taxis could affect mobility for such travelers.
"I think this is one of the biggest policy issues we need to be addressing," Pedersen said. "A number of metropolitan areas require taxi services to have a certain percentage of their vehicles be wheelchair accessible. If the transportation network companies come in and start to decrease the amount of taxi service available, we will probably see a commensurate decrease in those mobility services for the mobility impaired. That is a big, big policy concern."
Recommendations and Research Needs
The recommendations in the TRB report anticipate that policy makers and regulators will need to grapple with which governmental levels are appropriate to regulate TNCs; accessibility challenges based on income, disability, and other factors; public safety requirements; and which data are needed to understand how TNCs affect mobility and make sound decisions for the public good.
Future research needs also closely follow TRB's assessment of the TNC marketplace, including the need for a clearinghouse of information on best practices so each metropolitan area and state can learn from those that have already addressed the appropriate regulatory levels for TNCs.
"The panel really did conclude that these services do have the opportunity to really help improve mobility and, if done correctly, we can also be doing it in a safe manner and we can be improving sustainability as well," Pedersen said.
Watch Video Highlights of the Event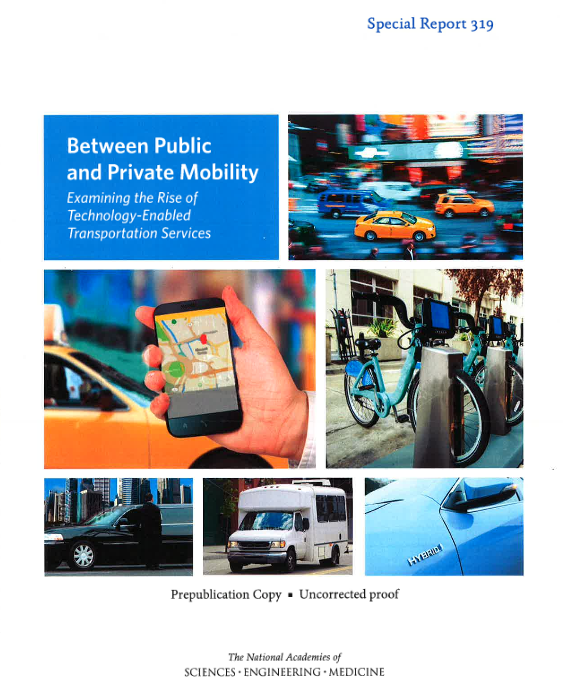 TRB's new policy paper, Between Public and Private Mobility, addresses a number of policy issues associated with technology-enabled transportation services, such as car-sharing and bike-sharing microtransit services, and transportation network companies, such as Uber and Lyft. It dives into trends in TNC growth, traditional taxi regulatory schemes, labor and employment issues, public safety, and paths for further policy research.