How a Decades-Long Partnership Led to Safer Waterways around the World
Wednesday, April 19, 2017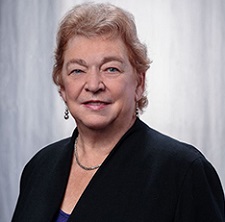 U.S. DOT Volpe Center Director Anne Aylward recently contributed an article to Seaway Compass, the newsletter of the Saint Lawrence Seaway Development Corporation (SLSDC). In this newsletter, Aylward discusses the decades-long partnership between the Seaway and Volpe that has made waterways around the world safer and more efficient for marine traffic.
Here's an excerpt:
In 1979, SLSDC tapped Volpe to develop a precise all-weather navigation system using electronic monitoring devices. As satellite and communications technology improved, Volpe and SLSDC engineers upgraded the Seaway's navigation capabilities, safety, and situational awareness using the Automatic Identification System (AIS)—which since 2000 the International Maritime Organization has required vessels to have. This marked the first time AIS was used on an inland waterway anywhere in the world.
Using AIS, cargo ship owners realize reduced transit time and fuel consumption, safer operations and precise awareness of weather conditions, and real-time ship-to-ship communications. SLSDC Deputy Administrator Craig Middlebrook was an integral part of vessel-tracking modernization efforts and we continue to appreciate him as a strong partner in our agencies' collaboration.
But AIS navigation technology did more than just provide benefits to Seaway users—the Seaway was a proving ground for AIS technology that is now used around the world.
Building on the success of AIS along the Seaway, the U.S. Navy and Volpe rolled out vessel-tracking on a global scale as part of the Maritime Safety and Security Information System (MSSIS). More than 70 countries now use MSSIS, which tracks tens of thousands of vessels globally, all day, every day. MSSIS improves situational awareness and has been integral in disaster relief efforts, drug smuggling enforcement, and anti-piracy efforts, particularly for nations in Africa—and it all began on the Seaway.
Read the full Seaway Compass article for recent work that Volpe has done to help the Seaway address challenges and pursue opportunities with new technologies.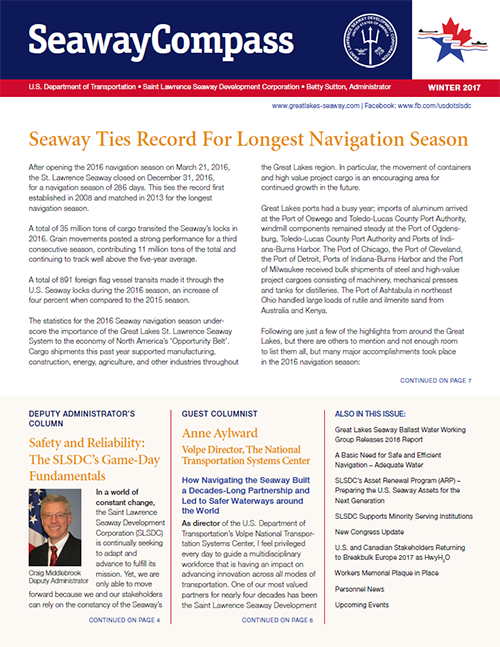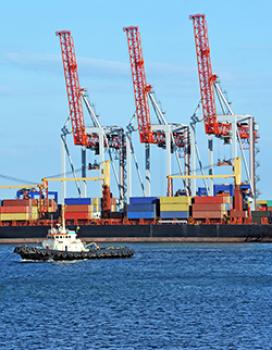 Using Automatic Identification Systems, cargo ship owners realize reduced transit time and fuel consumption, safer operations and precise awareness of weather conditions, and real-time ship-to-ship communications. (Hellen Sergeyeva/123RF photo)