Benefits Outweigh Costs for Precast Concrete Pavement
Friday, December 7, 2018
Program evaluation experts at the U.S. DOT Volpe Center recently completed an evaluation of the benefits and costs of precast concrete pavement, on behalf of the Federal Highway Administration (FHWA). The evaluation team also examined the outcomes and impacts of FHWA research and educational outreach related to precast concrete pavement technology.
What is precast concrete pavement?
Precast concrete pavement (PCP) refers to high-quality, durable, prefabricated concrete panels used to repair roads during off-peak travel times. From roads to toll plazas, ramps to intersections, bridge approaches to tunnels, PCP panels are quick to install, and road maintenance professionals can use them for a range of projects in high-traffic areas. 
The scope of precast concrete pavement use
The evaluation team found that 27 states have used PCP technologies, and several other states are planning to use or are exploring PCP deployments. Over the last few years, FHWA has provided funding awards to 12 departments of transportation to include PCP technology in road projects. These demonstrations aimed to show the effectiveness of PCP across states with varying geographies and weather patterns, such as Hawaii, Wisconsin, and Pennsylvania.
How the evaluation was done
The Volpe Center evaluation focused on short-, medium-, and long-term outcomes and impacts.
First, the evaluation team reviewed publicly available information. Second, the team attended presentations at conferences and at FHWA's Turner-Fairbank Highway Research Center. Finally, the team interviewed routine users of PCP technology and FHWA grant recipients. The team also had informal conversations with FHWA staff, FHWA contractors, and other stakeholders.

Workers install precast concrete pavement. (Texas Department of Transportation photo)  
Making repairs while keeping traffic moving
Time savings for drivers is one of the biggest benefits of deploying PCP. Conventional concrete requires a 10-day closure for curing. In California, Caltrans can install 500 linear feet of PCP overnight.
PCP durability is comparable to conventional concrete, and Caltrans noted that PCP provides superior performance and longer service life than high-early-strength concrete. Because of its durability, PCP often has a lower lifecycle cost compared to other rapid-repair techniques, such as cast-in-place, which may be less costly up front. States deploying PCP also reported using innovative techniques, such as reusing panels for temporary maintenance.
What new precast concrete pavement users should know
States deploying PCP for the first time will have a learning curve that may lead to increased costs. These recommendations from the Volpe Center evaluation team can help:
Collaborate with other states and stakeholders to reduce the learning curve.
Develop and maintain institutional knowledge.
Emphasize on- and off-site test trials to reduce the learning curve.
Consider whether PCP deployment is the best approach given unique circumstances and needs.
Read the report for more on how FHWA research and educational outreach has led to more precast concrete pavement deployments, and get in touch with Volpe Center economist Gregory Bucci.
The U.S. DOT Volpe Center performed this evaluation on behalf of the Federal Highway Administration.
Subscribe to Volpe Center emails for more transportation innovation across modes.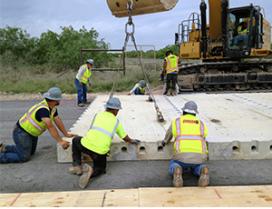 Precast concrete pavement panels are quick to install and can be used for a range of projects in high-traffic areas. (Texas Department of Transportation photo)