Events
Fresh Approaches to Emerging Issues
Thought leaders, decision makers, and stakeholders from across the global transportation enterprise visit U.S. DOT's Volpe National Transportation Systems Center to discuss future transportation issues, generate fresh approaches to emerging issues, anticipate transportation trends, and inform decision making.
See all upcoming events.
A Different Transportation Theme Every Year
Our Transportation and the Economy series examined current and emerging issues crucial to moving people and goods to remain competitive in the global economy.
Advancing Transportation—in Under an Hour
Each session in our speaker series features a 45-minute talk followed by a live and online question-and-answer session. Hosted at the Volpe Center in Cambridge, the lunchtime series is free and open to the public, although reservations are required. Want to join the conversation but cannot attend live? Join us via webinar.
Dig Deeper with Volpe Center Colloquia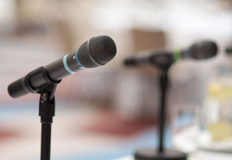 Transportation Challenges and Opportunities continues the Volpe Center's long tradition of facilitating knowledge exchange across the transportation community. Our colloquia feature panels of thought leaders and experts from government, academia, and the private sectors who focus on core issues underlying today's most pressing transportation challenges. Members of the transportation community are encouraged to participate in question-and-answer periods.

See all upcoming events.
Never miss an event: Subscribe to our e-newsletter to keep up with the latest upcoming speakers and news.
Event News and Videos
For news and videos of our speakers, click on an event from our Past Events page.
You can also see video of speakers on Volpe's YouTube channel.
Join Us for an Event
Participate in Volpe events via webinar or in person.
Our Speaker Series