Innovation for a Sustainable, Equitable Transportation System
Our 2021 Thought Leadership Speaker Series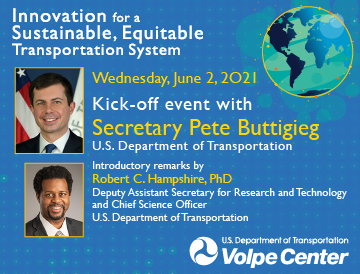 Transportation is a major contributor to greenhouse gas (GHG) emissions and climate change. GHG emissions from transportation account for about 28 percent of total U.S. greenhouse gas emissions.
The U.S. DOT Volpe Center's new speaker series on Innovation for a Sustainable, Equitable Transportation System will explore how the transportation enterprise can work together to address the profound climate crisis while ensuring that decision making and investments also address transportation equity. Solutions to these complex challenges require a holistic approach to transportation emissions reduction and the development of significantly enhanced equity and sustainability initiatives.
As we innovate toward a clean energy future, this series will consider how to transition to a low-/no-carbon transportation system—one that enables disadvantaged communities to gain access to mobility, jobs, and economic opportunity.
Please join U.S. DOT Volpe Center Director Anne Aylward, host of the thought leadership series, for an important dialogue on the future of the transportation system.

Register to attend the full speaker series or individual events.
Join the Conversation
Kick-Off Event

Pete Buttigieg, Secretary, U.S. Department of Transportation

Robert C. Hampshire, PhD, Deputy Assistant Secretary for Research and Technology and Chief Science Officer, U.S. Department of Transportation

"Innovation for a Sustainable, Equitable Transportation System"

Wednesday, June 2, 2021

Read a recap and watch the video of this event.

Ed Carr, PhD, Director and Professor, International Development, Community, and Environment Department at Clark University

"A Climate-Resilient Future Is an Equitable, Just Future"

Tuesday, June 8, 2021

Read a recap and watch video highlights of this event.

Erin Mayfield, PhD, Sustainable Systems Engineering and Public Policy Researcher and Postdoctoral Scholar, Andlinger Center for Energy and the Environment and the High Meadows Environmental Institute at Princeton University

"Net-Zero America: Potential Pathways, Infrastructure, and Impacts"

Tuesday, June 22, 2021

Read a recap and watch video highlights of this event.

Marilyn Brown, PhD, Regents' and Brook Byers Professor of Sustainable Systems in the School of Public Policy, Georgia Institute of Technology

"Advancing a Just and Low-Carbon Future with Urban Electrification"

Tuesday, July 20, 2021

Read a recap and watch video highlights of this event.

James Bradbury, PhD, Mitigation Program Director, Georgetown Climate Center, Georgetown University Law Center

"The Transportation and Climate Initiative: Multi-State Collaboration to Advance Equitable Low-Carbon Transportation"

Tuesday, August 3, 2021

Tim Wallington, PhD, Senior Technical Leader, Research and Advanced Engineering, Ford Motor Company

"Toward Carbon Neutral Mobility"

Tuesday, August 24, 2021

Dr. Shelley Francis, Co-founder and Principal, EVNoire 

"Mobility Best Practices and E-Mobility Diversity, Equity, and Inclusion in Accelerating EV Adoption"

Tuesday, September 14, 2021

Series Finale

Susan Shaheen, PhD, Co-Director, Transportation Sustainability Research Center of the Institute of Transportation Studies

"Strategies to Overcome Transportation Barriers for Rent Burdened Residents"

Thursday, September 23, 2021
Last updated: Wednesday, July 28, 2021