Volpe Model Assesses Environmental Costs of Truck Crashes
Friday, July 25, 2014
When a government agency proposes a new regulation, there's usually a good reason. But having a good reason isn't enough to get a regulation approved. The agency must explain the impacts of the proposal with a detailed benefit and cost analysis. A regulation aimed at reducing crashes, deaths, and injuries on the nation's roadways, for example, must assess the cost savings realized from preventing accidents in the first place.
Consider truck crashes. The costs of a truck crash are not always as obvious as a broken leg or a crushed bumper. After an accident, drivers often get stuck in stop-and-go traffic, or they must seek alternative routes. Both cost drivers time and lead to pollution that would not have existed if there hadn't been a crash.
The Federal Motor Carrier Safety Administration (FMCSA) asked economists at Volpe, The National Transportation Systems Center, to perform rigorous statistical analyses and provide data on the average delay and environmental costs from truck-involved crashes. FMCSA regulatory impact studies estimate several crash costs, including fatalities, medical costs, and delay, but do not include environmental costs.
The Volpe team used public data on fatal accidents, reported crashes, and detailed traffic counts down to 15-minute intervals for a variety of roadways. Data were taken from multiple times of the day, on different days of the week, from all road types, in different states, and from different vehicle classes.
The Volpe team also modeled the unique environmental challenges that come from crashes involving trucks hauling hazardous materials, such as gasoline, nitrogen fertilizer, or fireworks.
"It's a very complex problem because you are finding these joint results of several non-linear probability distributions," said Douglass Lee, Volpe's lead on the project. "It's not as if we're looking at one accident. It's how to get a representative array of crashes. Big crashes, little crashes—how do you average that? It's a quantitative challenge."
In addition to emissions, the study assessed the impacts a crash can have on property damage, spilled fuel, and lost work time from detours and delays. An average accident involving a truck leads to 3.2 tons of C02 emissions due to detours and delays, with nearly 11 tons of CO2 emitted for an accident on an urban expressway—and an average collision claim ranges from $6,800 for crashes with medium-sized trucks, to $20,900 for extra-heavy trucks.
"Our main contribution was to re-estimate the delay," Lee said. "The original estimates weren't far off, but we came up with a pretty creative methodology using microscopic data collected by FHWA from states."
This year-and-a-half long research released in March allows FMCSA to more confidently zero in on policy, regulatory, and enforcement actions that will reduce the most costly crashes.
Download the Volpe report: Delay and Environmental Costs of Truck Crashes.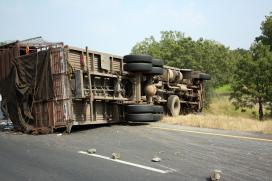 An average accident involving a truck leads to 3.2 tons of C02 emissions due to detours and delays, with nearly 11 tons of CO2 emitted for an accident on an urban expressway. (The final miracle/123RF Stock Photo)