Volpe and the U.S. Department of Defense: An Essential National Partnership
Tuesday, August 1, 2017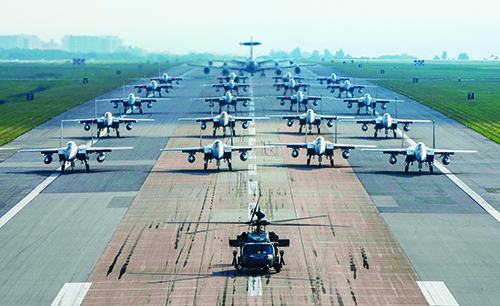 For nearly five decades, U.S. DOT's Volpe Center has provided essential support to critical missions across branches of the Department of Defense (DoD). A long-standing memorandum of understanding encourages all DoD commands and organizations to leverage the Volpe Center's world-renowned, multidisciplinary expertise in all modes of transportation.
Volpe experts support DoD branches with multimodal infrastructure modernization and planning in rail, aviation safety and efficiency, and infrastructure planning and development.
To support infrastructure resilience, Volpe experts manage, operate, and acquire GPS navigation systems, and provide analysis and insight to help DoD understand impacts when inclement weather disrupts military and civilian transportation systems. Volpe experts also support DoD goals in resilient energy and cybersecurity.
In automation and advanced technology, Volpe experts work collaboratively with DoD, FAA, NASA, and others to address challenges related to unmanned aerial systems and connected vehicles.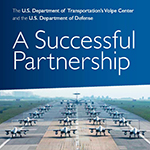 To enhance maritime safety and security, Volpe is at the vanguard of developing and deploying state-of-the-art, easy-to-use, cost-effective vessel tracking networks that enhance vessel safety and security worldwide.
Want to know more about how Volpe supports critical DoD missions and goals? Read our brochure, Volpe and DoD: A Successful Partnership.