Vessel Monitoring System Helps Safeguard Endangered Whales
Thursday, January 15, 2015
Volpe is applying its technical expertise to help the National Oceanic and Atmospheric Administration (NOAA) Fisheries Service in its mission to protect the endangered North Atlantic right whale.
Collisions with ships are the leading human cause of serious injury and mortality of the right whale, which can be found in near coastal waters from the southeastern U.S. all the way to New England and north to the Bay of Fundy. With approximately 450 right whales  in existence, Volpe is working collaboratively with NOAA to monitor and reduce the speeds of vessels traveling in proximity to breeding and feeding areas.
The Challenge
The North Atlantic right whale is a critically endangered species. These slow-moving whales are highly vulnerable to ship collisions, since their primary migration routes overlap with major East Coast shipping lanes and major ports.
In U.S. waters, right whales are in danger of extinction, due to the small population size, low annual reproductive rate, and increased ship traffic. An estimated 3,500 ships move through the Boston shipping lanes each year—an area that is frequented by more than half of the world's North Atlantic right whale population during the spring. A major challenge for NOAA has been monitoring the speed and movement of vessels that traverse the nursery and breeding areas of the right whale.
The Solution
Since 2010, Volpe has worked with NOAA to assess mariner and vessel compliance with the Right Whale Ship Strike Reduction Rule (50 CFR 224.105), also known as the Ship Strike Rule. This rule created mandatory speed restrictions of 10 knots or less for vessels that measure 65 feet or greater in overall length, navigating in selected areas along the East Coast during times when right whales are present.
Volpe has leveraged its technical expertise and the Maritime Safety and Security Information System (MSSIS) to assist NOAA in compiling vessel speed compliance statistics and measuring changes in ship traffic patterns and mariner behavior as a result of the Ship Strike Rule. Following this collaborative effort, NOAA requested that ships of 300 gross tons and over avoid an area in the Great South Channel during the months of April through July, when right whales are more likely to be struck by ships.
The Impact
Volpe's innovative expertise in navigation monitoring and vessel speed tracking has assisted NOAA Fisheries Service in its mission to protect the endangered North Atlantic right whale. Volpe's efforts have
Enabled NOAA Marine Fisheries Service to monitor mariner compliance to speed restrictions when traveling through or in proximity to selected areas where right whales are prevalent.
Assisted in improving violation enforcement in seasonal right whale migration zones along the Eastern seaboard.
Customer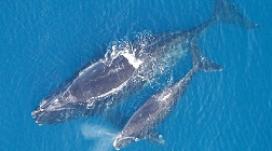 National Oceanic and Atmospheric Administration (NOAA) Fisheries Service