Transportation Hubs Anchor Economic Ecosystems
Monday, October 20, 2014
America's economic confidence is up. As sectors from real estate to construction to the financial industry approach pre-recession employment levels, there is one set of economic engines that has continually been pumping at full steam: logistics clusters.
A logistics cluster is a geographic area where natural resources, specialized labor, and an experienced knowledge base come together to create well-paid jobs in a range of skills that are difficult to offshore. Once logistics clusters get going, they tend to be self-sustaining.
Silicon Valley, Napa Valley, Hollywood, and Wall Street are all examples of logistics clusters where success begets success. In metropolitan Memphis, nearly one in three jobs is related to logistics. The freight rail cluster in Chicago supports 200,000 workers.
"Every 20 minutes, there is a train about two to three miles long," said Dr. Yossi Sheffi, a professor of transportation logistics at the Massachusetts Institute of Technology and the first presenter in Volpe's newest speaker series Transportation and the Economy.
"It is unbelievable," Dr. Sheffi said. "If you want to understand the size of commercial activity in the United States, just watch the trains in Chicago coming in from Los Angeles-Long Beach."
Benefits and Drawbacks
As logistics clusters grow, they tend to flourish like a naturally evolving ecosystem, Dr. Sheffi said. Transportation costs go down and clusters have smaller carbon footprints as vessels get bigger and container inventories are balanced to match supply and demand. Companies exchange ideas, grow off of individual successes, and share labor and equipment.
Fresh ideas and shared resources are good, but companies in logistics clusters also risk insularity. In one of the most infamous cases, the automobile tire production cluster in Akron, Ohio—specifically Firestone—suffered from groupthink that led to structural defects and the recall of millions of tires in the 1970s.
Established logistics clusters may be vulnerable if production moves overseas, Dr. Sheffi said. Logistics clusters that are just forming need to address environmental regulations and may face increased land values and a lack of qualified labor.
Global and American Logistics Success
There are successful logistics clusters in nearly every corner of the developed world. In Zaragoza, Spain, the Caladero fish company serves one of the largest fish-eating countries per capita in the world. A room full of traders haggles for favorable prices while moving product as quickly as possible. Fish move from ocean to supermarket in 24 hours.
The UPS Worldport package facility in Louisville supports 55,000 jobs, pays $277 million in taxes, and processes 1.6 million packages a day. Companies such as online shoe retailer Zappos, which Amazon bought for more than $1 billion in 2009, have their warehousing operations near Louisville to take advantage of transportation efficiencies from the logistics hub that UPS created. Inside the Zappos warehouse, there are forklift operators, managers, and nearly six dozen videographers who create online clips detailing shoes, Dr. Sheffi said.
The Government Role
Logistics clusters use the transportation infrastructure and facilities built from public funds. And there's one more piece that makes logistics hubs hum: influence. With numerous related companies in a single area, it is easier for them to lobby governments for things like tax breaks, which can attract even more companies. Governments that are friendly to logistics companies help get products quickly through processing to delivery to consumers, Sheffi said.
"Logistics clusters are everywhere," Dr. Sheffi said. "They are almost always a public-private partnership. I always laugh when people say government has no input in Silicon Valley. They forget the defense industry developed the engineering that created Silicon Valley."
Greg Winfree Kicks Off New Speaker Series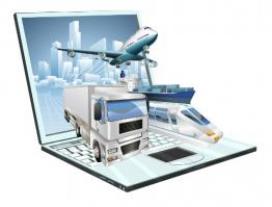 Greg Winfree, Assistant Secretary for Research and Technology of the U.S. Department of Transportation, kicked off Volpe's Transportation and the Economy speaker series.
A good transportation network can be the difference between a community that thrives and one that fails, Winfree explained. At the center of every thriving community is a thriving economy. At the center of every thriving economy is an interconnected transportation network that promotes success and connects supply chains, a transportation network that people and businesses can be confident in.
View the video.