Top DOT Leaders Turn Out for Volpe's Second Innovation Challenge
Friday, January 3, 2014
Seven senior leaders from the U.S. Department of Transportation (U.S. DOT) convened at Volpe in December to judge the organization's second Innovation Challenge. In this now-annual contest, seven Volpe teams competed for seed funding to develop solutions to significant transportation problems.
"Competitions like this Innovation Challenge are an outstanding way to help create a federal workplace and a federal workplace environment that is driven by a culture of innovation, by the idea that public service can harmonize talent and career development, while producing real results for the American people," said Research and Innovative Technology Administration (RITA) Administrator* Greg Winfree, who chaired the competition's selection panel.
Participating teams prepared for weeks for this opportunity, developing their ideas, recruiting team members, gaining manager endorsement, crisply defining the problems, analyzing alternative approaches for solving the problems, and quantifying the benefits. Then there was vetting, rethinking, refining, and reworking.
At the culmination of the competition, each team delivered six-minute presentations describing the problems they proposed to solve, the solutions they wished to develop, and the impacts that those solutions could have on transportation.
The judges (see right sidebar) rated each proposal on four dimensions: significance, novelty, potential, and quality.
Volpe's 2013 Innovation Challenge judges included (front row, left to right) Tim Johnson, NHTSA; Jeff Paniati, FHWA; Stacy Cummings, FRA; Gregory Winfree, RITA; (back row, left to right) Ken Leonard, ITS JPO; Vanessa Sutherland, PHMSA; and Vinny Capezzuto, FAA. Not pictured: Volpe Director Robert Johns. (Volpe photo)
The topics were varied and the approaches were unique. The proposals included the following:
An "app" to photograph and geo-locate airplane contrails, which could help researchers better understand the impacts of contrails on climate change.
An evaluation of a new type of pedestrian crosswalk signal that could improve pedestrian safety.
A set of multi-sensory techniques to provide pilots of unmanned aircraft greater awareness when their aircraft control link is degraded.
An implementation handbook for one-way electric vehicle car-share systems.
A set of climate change and resilience tools for transportation practitioners.
An examination of driver performance in work zones with the goal of optimizing work zone design.
An online tool to incentivize alternative commuting options and reduce roadway congestion.
After sequestering themselves to debate the merits of each proposal, the judges selected the winning team: the Climate Change Adaptation and Resilience Support for Transportation Practitioners team.
This team proposed to collect and assess a set of climate change resources to make them more accessible and consistently used by state and local transportation practitioners. To do this, they will collect relevant resources that are used to analyze climate change impacts and identify adaptation and resiliency options. These resources include models, data sources, and potential solutions. They will analyze the strengths and limitations of the various resources and develop a step-by-step decision-making approach to choose and use these tools and implement solutions. Then the team will apply the decision-making approach to a retrospective case study to identify opportunities to improve the approach.
The output will be tools and techniques to help practitioners, planners, and decision makers take action to mitigate and adapt to the effects of climate change.
According to winning team member Dr. Kristin Lewis, the Innovation Challenge process was invigorating. "This was a great opportunity to develop a really interdisciplinary project," she said. "The team is thrilled to receive seed funding to develop our idea, and we are excited to continue to work together on this new project."
While there was only one declared winner, "They are all winners," said Anne Aylward, Volpe deputy director for Research and Innovation. "So many terrific ideas were developed by our creative staff. I am going to look for ways to help all of these teams move their ideas forward because each idea that was pitched at the Innovation Challenge will help improve the nation's transportation system."
Last Year's Innovation Challenge
Last year's winning idea, dubbed "SafetyHAT," is a hazard analysis tool that generates hazards and causal factors and takes users through a risk analysis and improvement process, explained winning team leader Dr. Qi Van Eikema Hommes. This tool helps users become proficient with a new hazard analysis method that is described in a 400-page textbook and taught as part of a semester-long class at MIT.
Van Eikema Hommes and her team are actively using Safety Hat on two products for the National Highway Traffic Safety Administration (NHTSA) and have met with other U.S. DOT agencies to explore partnership options.
"[Last year's] winning idea is actually a critical part of our new electronic controls research program," said Innovation Challenge judge Tim Johnson, director of NHTSA's Crash Avoidance and Electronic Controls Research. "So it's real ideas and we really have benefitted directly from the first challenge."
Another idea from last year's competition bore fruit for the city of Boston. Although his team didn't win the Innovation Challenge in 2012, Volpe engineer Alex Epstein continued to explore and promote the benefits of implementing truck side guards, which protect bicyclists and pedestrians from falling underneath the body of a vehicle. An advisor to former Boston Mayor Thomas Menino contacted Epstein to learn more about his research, and in May 2013, the city of Boston announced its plan to add side guards to 19 large public works vehicles.
* Editor's Note: On January 21, 2014, the Research and Innovative Technology Administration became part of the newly formed Office of the Assistant Secretary for Research and Technology. Gregory Winfree is now the Assistant Secretary for Research and Technology.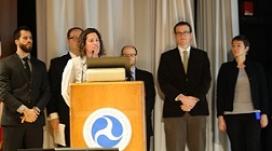 Winners of Volpe's 2013 Innovation Challenge: the Climate Change Adaptation and Resilience Support for Transportation Practitioners team, which includes Kristin Lewis (at podium) and (left to right) Jonathan Cybulski, Kevin McCoy, Darren Shaffer, Ben Rasmussen, and Lindsey Morse. (Volpe photo)
Judging Panel
Volpe's 2013 Innovation Challenge was judged by a panel of top transportation leaders:
Gregory Winfree – Research and Innovative Technology Administration Administrator and Selection Panel Chair
Robert Johns – Volpe Director and Ex Officio Panel Member
Vinny Capezzuto – Federal Aviation Administration Air Traffic Systems Director
Stacy Cummings – Federal Railroad Administration Executive Director
Tim Johnson – National Highway Traffic Safety Administration Crash Avoidance and Electronic Controls Research Director
Ken Leonard – Intelligent Transportation Systems Joint Program Office Director
Jeff Paniati – Federal Highway Administration Executive Director
Vanessa Sutherland – Pipeline and Hazardous Materials Safety Administration Chief Counsel