The Seaway at 60: A Model of Binational Partnership
Wednesday, April 18, 2018
The Great Lakes-St. Lawrence Seaway flows 2,340 miles from the Atlantic Ocean off the Quebec coast to the Duluth-Superior port in Minnesota. It opened for large vessels nearly 60 years ago. The Seaway today moves more than 200 million tons each year of nearly every commodity. And at the Seaway's core as a commercial catalyst is a close partnership between the U.S. and Canadian governments.

The Seaway system moves freight from the Atlantic Ocean thousands of miles through the Great Lakes. (St. Lawrence Seaway Development Corporation image)
"A ship transiting the Seaway crosses the international boundary 27 times," said Craig Middlebrook, deputy administrator of the U.S. Department of Transportation's Saint Lawrence Seaway Development Corporation (SLSDC), during a recent talk at the Volpe Center. "So the idea is you've got two countries, two entities, but one really shared resource. How do you manage that it's safe, it's efficient, and it makes sense to the user? That's our daily challenge, and I think what we have been able to achieve on that is worth looking at."
Terence Bowles, president and CEO of the St. Lawrence Seaway Management Corporation in Canada, joined Middlebrook at the Volpe Center.
Key Elements of a Binational Partnership
The U.S.-Canadian partnership began in the mid-1950s in part because of a clear geographical imperative. The only way shipping and manufacturing concerns could take advantage of the logistical benefits of the vast waterways between both countries was for the countries to work together.
Another key to successful binational collaboration along the Seaway is that its founding legislation is succinct, short, and offers a broad mandate. This simple, three-page document has allowed both countries to build relationships over many decades.
"We may be 60 years old, but we don't think we've been standing still," Bowles said. "We've been continually upgrading, modernizing, and keeping our infrastructure in shape."

Terence Bowles (left), president and CEO of the St. Lawrence Seaway Management Corporation in Canada, and Craig Middlebrook, deputy administrator of SLSDC, discuss the long history of collaboration and innovation that have led to advancements in the Seaway. (Volpe photo)
Following One Set of Rules
The U.S. and Canadian counterparts review common regulations each year so that Seaway users only need to follow one set of rules. About a decade ago, both sides agreed to begin inspecting international ships' ballast water, which can contain invasive species. Ships take on ballast water to compensate for weight changes when cargo is loaded and unloaded. International ships now flush saltwater through their ballast tanks while at sea to remove and destroy invasive organisms.
"That was a great accomplishment only because we can work together the way we can," Bowles said.

Watch video highlights from "The Seaway at 60" talk.
Keeping Vessels Moving
Binational collaboration along the Seaway stretches through time zones and across seasons. This past winter, a wide-body vessel got stuck—on a Monday—in an unusually large ice formation in Snell Lock in New York. By Wednesday, it was still stuck. The Canadian Seaway offered help and sent its best engineers. For the next five days, U.S. and Canadian logistics and engineering experts worked to get the vessel unstuck and get the last vessels of the season moving.
"You have to have that depth of relationship in a crisis to be able to do that," Middlebrook said. "You can't just manufacture that overnight."
Highway H20: Alleviating Freight Truck Traffic
Middlebrook and Bowles call the Seaway Highway H20. That's because the Seaway has room to grow, and can alleviate freight truck traffic on U.S. and Canadian roadways. The Seaway operates at only between 50 to 60 percent capacity and connects the agricultural and manufacturing heartlands of the world's two largest trading partners. And its people bring a legacy of collaborative problem solving.
"We have really good people," Bowles said. "People who want to work together and have the right attitude. That's one of the most important takeaways. We're 60 years old, but we hope you think we're young at heart."
About the Speakers
Craig Middlebrook has been an employee of SLSDC since 1995. He was the agency's chief of staff from 1996 to 2000, before becoming deputy administrator. He served as SLSDC acting chief counsel from 2004 to 2008, as well as acting administrator in 2006 and from 2012 to 2013. In 2011, he was awarded the Presidential Rank Award for Distinguished Service.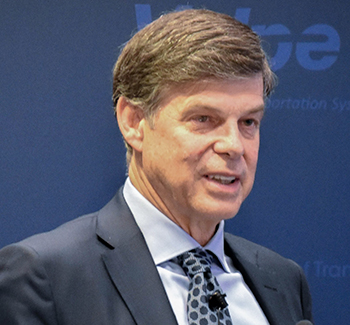 Terence Bowles had a long and distinguished career in the mining industry before he was appointed to the St. Lawrence Seaway Management Corporation in 2010. He was the president of Rio Tinto's Quebec Iron and Titanium, the world's leading supplier of titanium dioxide concentrates. In 2001, Bowles joined Iron Ore Company of Canada as president and CEO, where he implemented technology and measures that improved safety, productivity, and output.