Safely Integrating Drones into the National Airspace
Wednesday, December 6, 2017
By 2021, there could be 4 million remotely piloted aircraft (RPA)—commonly referred to as drones—in the hands of hobbyists and commercial users, according to projections from the Federal Aviation Administration (FAA). 
Safely and efficiently integrating the coming influx of RPA into routine operations across our nation's airspace creates a variety of technical, operational, and regulatory challenges.  
"Without a human pilot onboard, every drone is by definition incapable of complying with the federal regulation to see-and-avoid other aircraft," said Jason Glaneuski, chief of the Air Traffic Management Systems Division at U.S. DOT's Volpe Center. "Our team has spent several years tackling this challenge, researching solutions for drone operators that fulfill their operational needs, while also complying with FAA's rigorous safety standards."  
Detecting and Avoiding
In collaboration with other government and industry partners, Volpe aviation experts helped develop a ground-based detect-and-avoid (GBDAA) system that displays aircraft positions in real-time by collecting and correlating aircraft movement data from many types of ground-based radars. GBDAA lets RPA operators detect-and-avoid other air traffic at an equivalent level of safety to a human pilot seeing and avoiding other aircraft.
The GBDAA system received FAA approval for daily use at Cannon Air Force Base in New Mexico in May 2014. Since then, it has been deployed at several additional U.S. Air Force sites in support of critical mission needs. 
Recently, Volpe has worked closely with the U.S. Air Force and the Ohio Department of Transportation to deploy GBDAA at Springfield-Beckley Municipal Airport (KSGH) in Springfield to test technologies that may enable safe and efficient flight of small RPA. 
To meet specific mission needs of the Air Force at KSGH, Volpe experts engineered an innovative solution—a mobile command center outfitted with a full suite of GBDAA equipment.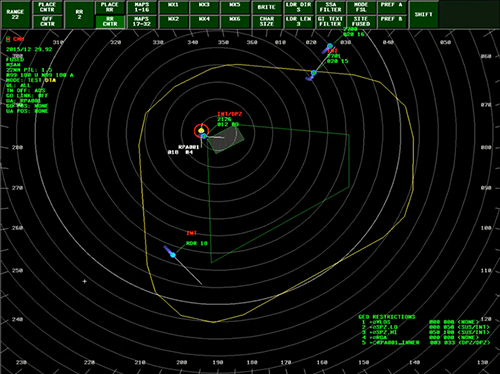 Building a Mobile Command Center
The mobile command center for GBDAA operations at KSGH is a retrofitted recreational vehicle. The vehicle can be driven to a desired location on the surface of the airport, as well as to other airfields where connections to FAA data infrastructure are available. 
The Volpe GBDAA team procured the vehicle and equipment, and was involved in all aspects of building the command center—including designing its electrical architecture and analyzing radar coverage at KSGH. 
The mobile command center addresses an essential need for the Air Force to have geographical flexibility in conducting research operations. The Air Force and Volpe are also evaluating the command center as a long-term solution for providing flexibility in configuring and deploying GBDAA solutions without permanently modifying existing facility infrastructure. 
"Adapting GBDAA to support a wider range of mission needs and environments will make it easier to ultimately integrate these vehicles into the national airspace," Glaneuski said. "The mobile solution Volpe delivered can allow more dynamic RPA research and missions, and it can also serve as a contingency when it's not feasible or practical to install GBDAA at a fixed location."