Robin Chase and Anthony Townsend on Automated Vehicles and Urban Mobility
Tuesday, October 18, 2016
Automated vehicles are coming sooner than you might think, according to two leading thinkers in transportation who spoke recently at Volpe.
Earlier this month, Volpe hosted Robin Chase and Anthony Townsend for a panel discussion on vehicle automation and urban mobility, moderated by Austin Brown of the White House Office of Science and Technology Policy, as part of Volpe's Future of Transportation speaker series.
Here's what Chase and Townsend discussed in their individual remarks and during the panel discussion that followed.
Robin Chase: Automated Vehicles Are Here
No longer the stuff of science fiction, cars and trucks that drive themselves are nearly a reality.
"Someone said to me, 'So [are automated vehicles] five years away? Everything is five years away,'" said Robin Chase, co-founder and former CEO of ZipCar and co-founder of Veniam. "I said, 'Not only is it not five years away, it's three-and-half years away—three years away.'"

Watch video highlights of Robin Chase's talk at Volpe.
Two Autonomous Futures: Heaven or Hell
There are two available futures for tomorrow's automated vehicle revolution, Chase said. One future is what she calls "hell," where automated vehicles are a nearly one-to-one replacement for current personal vehicles. The other future is "heaven," where shared vehicles are the norm.
"We have autonomous vehicles that we are going to swap out for our internal combustion engines," Chase said. "They may be electric, it's not guaranteed. Or they can be something I'm calling FAVES: Fleets of Autonomous Vehicles that are Electric and Shared. This is really a huge choice."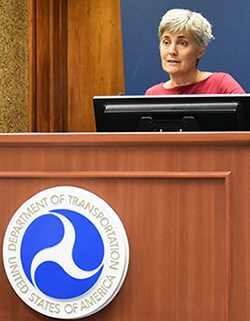 In the "hell" scenario, automated vehicle owners go to work or to the store and their vehicles drive around until needed, or they drive home. Businesses, too, may replace traditional storefronts with automated vehicles that go where customers are. Taxi drivers and truckers may lose their jobs, and more vehicles on the road rather than in parking spaces means more wear and tear on roads and bridges.
The "heaven" scenario takes a proactive approach, Chase said. The FAVES concept combines car sharing and ride hailing using mobile devices or computers, with these net benefits:
Car sharing eliminates the need for parking
Ride sharing reduces congestion
Individuals save thousands of dollars per year by not owning a personal vehicle
Only 10 percent of cars currently in cities would be needed
Despite these potential benefits, there would still be major challenges related to loss of employment in industries that depend on cars with human drivers, Chase said.
"No matter what people say, economics leads them," Chase said. "If they can get someplace for cheaper and the quality is still there, they will go for the cheaper path."
A Blueprint for Getting to FAVES
The five-years-or-less path to autonomous vehicles could look something like this, according to Chase: A pilot project with a 100-vehicle fleet of FAVES begins in a major city. It's mostly used by students, tourists, and people who work nights.
Between years two and five, the pilot expands to 1,000 vehicles. More people have a reason to try it out—maybe their second car breaks down. They'll find the shared autonomous vehicle system works, and works well. The next time they have to make a major financial decision, such as buying a new car, they may opt instead to rely solely on cheaper, reliable FAVES, Chase said.
"That's why I think it will be a very fast transition," Chase said. "Within five years, people will be able to reflect, 'What the heck? Why am I owning a second car? And why am I owning a first car?'"
Anthony Townsend: The Emerging Policy Landscape for Autonomous Vehicles and Cities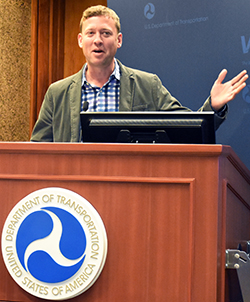 Cities and automation go hand-in-hand, according to Anthony Townsend, senior research scientist at New York University's Rudin Center for Transportation Policy and Management.
With vehicle automation, cities are safer, more efficient, and more connected. But automated vehicle technology has caught many cities by surprise, and their policies have not kept up, Townsend said.
"What we're confronting ahead is this 20-year period of automation," Townsend said. "It's primarily about reinventing the automobile. It's involving a massive amount of private investment and I don't think we really have an urban lens yet."
Urban Policy Implications of Autonomous Vehicles
Townsend proposed a policy framework that promotes accessibility and allows cities to confront challenges related to automated vehicles. An ideal policy framework for cities preparing to manage an influx of automated vehicles would address safety, economics, and land use, Townsend said.
Safety is the top governmental and industry priority, Townsend said. If the technology is not safe, the conversation around automated vehicle policy can't happen.
Loss of ridership and revenue for transit agencies, and a decrease in employment for workers in vehicle-related industries, could happen concurrently, Townsend said.
Leaders in cities will also need to rethink how they repurpose land currently used for vehicle infrastructure. How cities use their physical space is among the most important open questions related to vehicle automation, and will take the most time to develop, Townsend said.
"It's useful to think from point of view of user," he said. "This is about providing accessibility and getting people where they need to go. It's not about transportation."

Watch video highlights of Anthony Townsend's talk at Volpe.
A Discussion on Urban Mobility: Streetscape Visions and Access to Opportunity
Following their introductory remarks, Chase and Townsend sat down with the White House's Austin Brown for a wide-ranging dialogue on how automated vehicles are poised to fundamentally change the look and feel of cities.

Volpe's joint panel on urban mobility featured moderator Austin Brown (left) of the White House Office of Science and Technology Policy, ZipCar co-founder and former CEO Robin Chase (center), and New York University's Anthony Townsend. (Volpe photo)
"One of the visions for what the vehicle might look like is the mobile living room, and it could be compatible with the FAVES concept, but the very nature of that vehicle is isolating from the streetscape," Brown said. "That kind of worries me. Is that something that should worry me?"
Automated vehicles should not replace all modes, Chase said. Pedestrians and bicyclists spur retail shopping, and an active public environment where people are not in vehicles is needed to maintain healthy urban economies.
"[Retail is] one of the lobbies we need to get back into this discussion," Chase said. "We can re-partition the streets into: not everybody in their enclosed AV looking at their laptop. We want people out."
Positive outcomes from discussions among city leaders and citizens on what urban streets will look like will rely on a city having the authority to act on its designs for public space, Townsend said.
"There has to be some vision to allow city authorities to say, 'Repair shops? Totally consistent with our vision of public space. Amazon picking up your shoes to take them to a warehouse in New Jersey to get fixed there and then dropped back off? Not consistent with our use of public space,'" Townsend said.
An undercurrent of the discussion was that transportation provides access. Things traditionally associated with transportation, like mobility and movement, are simply means to provide access.
"There was a Harvard longitudinal study and another study that said the single largest barrier to escaping poverty was access to quality transportation," Chase said. "And I think [FAVES] are completely gamechanging on that. I see these vehicles going everywhere and being the price of a subway ticket."
Full Event Video

Watch the full video from Volpe's joint panel on vehicle automation and urban mobility. The panel discussion with Austin Brown starts at 47:20 in the video.