Our Ocean Conference Showcases Volpe's Global Vessel Tracking System
Wednesday, December 21, 2016
The world relies on oceans and their remarkable ecosystems for food, to provide jobs, and to generate trillions of dollars in economic activity. But oceans are threatened every day by unsustainable illegal fishing, marine pollution, climate change, and other hazards.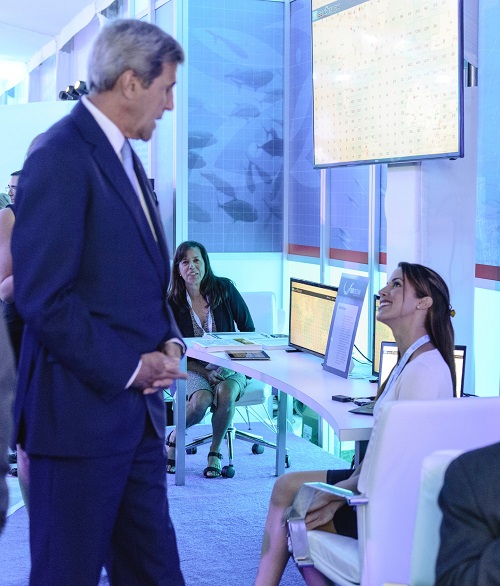 Secretary of State John Kerry launched the Our Ocean Conference to draw attention to these threats and to empower future generations to be responsible stewards of our oceans. The conference largely focuses on how modern-day technology and innovations can help keep waterways and oceans healthy.
The Volpe-developed SeaVision is a web-based vessel tracking and information-sharing tool that was chosen as one of three featured exhibits at Our Ocean 2016. SeaVision was built to achieve these goals:
Enhance maritime domain awareness around the world.
Help federal and international governments address activities that threaten the health of their waterways and oceans.
"SeaVision lets governments view, track, and analyze data in near real-time to improve the safety and security of the world's oceans and waterways," said Lauren Gentile, who is part of the SeaVision development team at Volpe. "To have SeaVision chosen as a featured exhibit at Our Ocean reinforces its significance in improving maritime situational awareness on a global level."
Foreign governments, particularly those along the western coast of Africa, use SeaVision to combat human trafficking, weapons smuggling, illicit drug trading, piracy, and illegal fishing. Volpe created SeaVision on behalf of the U.S. Naval Forces Africa.
Act Now for Cleaner Oceans Tomorrow
At Our Oceans 2016, President Obama urged leaders to take action now to safeguard oceans.
"Dangerous changes in our climate, caused mainly by human activity. Dead zones in our ocean, caused mainly by pollution that we create here on land. Unsustainable fishing practices. Unprotected marine areas, in which rare species and entire ecosystems are at risk—all those things are happening now," President Obama said. "If we're going to leave our children with oceans like the ones that were left to us, then we're going to have to act. And we're going to have to act boldly."
Tools like SeaVision can help maritime professionals pursue bold programs and policies that curb illegal activity and pollution in oceans around the world.
Demonstrating the Benefits of SeaVision for Safer Oceans
The SeaVision exhibition team from Volpe demonstrated the system to hundreds of conference attendees, including Secretary Kerry.
"Since SeaVision is a live system, we were able to provide Secretary Kerry with a near real-time view of global maritime activity, happening at the exact moment that he was viewing the system, and in any region he wanted to see," Gentile said.
SeaVision is part of a suite of Volpe-developed software tools that facilitate and improve maritime domain awareness around the world. SeaVision is also an essential tool for the Safe Ocean Network, a State Department initiative announced at Our Ocean 2015. The Safe Ocean Network increases collaboration between countries and organizations, and improves knowledge, technology, and data sharing.