Obangame: A Longtime Partnership with the U.S. Navy that Makes African Coasts Safer
Tuesday, April 25, 2017
Every day, people get work done in real-time across oceans using streaming video technology. But when it comes to passing along lasting knowledge, there's something to be said for in-person learning. That's especially true when it comes to something as complex as maritime domain awareness.
For 10 days in late March, Volpe engineers provided hands-on software and hardware expertise to African naval personnel from four nations as part of the U.S. Navy's Obangame Express.
Obangame is an at-sea maritime exercise that focuses on visit, board, search, and seizure techniques that can increase maritime safety and security in the Gulf of Guinea on the west coast of Africa.
Volpe has been providing technical expertise for Obangame since 2010.
"I'm starting to see the same people each year," said Volpe IT specialist Brendon Providence. "Whether you are American or African, we are all part of this long-term effort to reduce illegal smuggling, fishing, and trafficking, and improve the flow of vessel traffic."
Providence traveled to Pointe-Noire, Republic of the Congo. William Quintana went to Accra, Ghana, and Kevin O'Neill went to Takoradi, Ghana. Mario Caputo was in Cameroon, and Henry Wychorski went to Angola.

Volpe engineer Mario Caputo (right) providing technical expertise in Cameroon. (U.S. Navy photo)
African naval personnel from those countries will use the expertise that Volpe staff provided to improve data sharing as part of the Maritime Safety Security and Information System (MSSIS) network.
Cross-Nation Collaboration
MSSIS is a voluntary partnership among more than 70 nations around the world. Its Volpe-developed software tools let participants track commercial and government-owned maritime vessels. Government personnel from participating nations can pull up a world map that shows the tens of thousands of vessels navigating oceans, seas, and other waterways.
During Obangame, Volpe staff were stationed in operation centers teaching participants how to correct MSSIS technical issues on the fly. But their support to other MSSIS-member nations didn't stop: When a radar system went down in Senegal, Volpe staff in Angola used a chat client to trade system files and troubleshoot the problem with U.S. Navy civilians in Senegal.
"We all did at least one installation of the hardware that's needed to transmit vessel data," Providence said. "We were spread across different countries, but as challenges came up, we all worked together to support the process, each other, and our hosts."
Showing Marked Data Improvement
For MSSIS to provide the most benefit and the most accurate information, participant nations need to share data. To monitor data sharing, the Volpe team periodically reviews a visualization of data transmissions from particular participant nations.
Within the visualization, there are timeframes that are represented by bricks. A red brick means data was not transmitted during that timeframe. A green brick means data was transmitted.

Volpe IT specialist Brendon Providence (back row, fourth from left) in Pointe-Noire, Republic of the Congo. (Volpe photo)
For Pointe-Noire, the improvement in data compliance was stark—changing from a stack of red bricks to a stack of green—and it coincided with Providence's recent time there.
"What happened was that in 2011, someone came and installed the hardware and software and then left," Providence said. "It got shut down and they didn't know what to do. I re-installed it, and I trained them."
When the system went down again during Providence's visit, he had Republic of the Congo naval personnel use what they had learned and fix it themselves, arming them to upkeep their own systems.
Palpable Appreciation
Nations have found many ways to use MSSIS vessel tracking.
If a ship goes off course, for instance, naval forces can quickly identify that ship and investigate if there is a problem or if the ship is engaging in illegal activity. It has led to huge drug busts and has made the west coast of Africa safer for legitimate commercial needs—and that means a lot to the nations that participate in Obangame.
"The appreciation we get is a big thing for us, personally," Providence said. "Every year, we find the local navies want to hold a ceremony at the end of our time during Obangame. They say, 'Thank you so much for coming. This is huge for us.' They really mean it, they really appreciate the support we provide."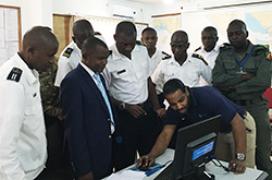 If a ship goes off course, using MSSIS, naval forces can quickly identify that ship and investigate if there is a problem. This has led to huge drug busts and has made the west coast of Africa safer for legitimate commercial needs—and that means a lot to the nations that participate in Obangame. (Volpe photo)