New Tools Investigated in Hazard Analysis Research for Vehicular Systems
Friday, December 14, 2012
There was a time when travel safety could be improved by training drivers and designing crash survival into vehicles. That is no longer the case, said Dr. Qi Van Eikema Hommes, senior electronics engineer in Volpe's Center for Advanced Transportation Technologies. "Your car is no longer a simple mechanical system—it may be controlled by dozens of microprocessors." Transportation infrastructure is also becoming more complex, with novel and rapidly changing technology and increasing automation.
Van Eikema Hommes discussed research into hazard analysis for complex vehicular systems during a recent Transportation Trajectories conversation titled "A Better Means to Anticipate What May Go Wrong." Van Eikema Hommes described a hazard as a set of conditions that, together with worst-case environmental conditions, will lead to a crash.
According to Van Eikema Hommes, the chain-of-events model of a crash is no longer the only viable approach to understanding crashes. "We can no longer assume that crashes result simply from component failures: we need to look at safety as a controls problem." In a vehicle with multiple electronic systems, a crash may result from unexpected component interactions or from causes outside the technical system, per se. For example, there may be factors related to the humans that design, manufacture, and operate modern vehicles that lead to unintended results in vehicle systems when the wrong conditions come together.
System safety uses systems theory and engineering approaches to prevent foreseeable crashes and to minimize the consequences of unforeseen ones. The primary concern of system safety is the management of hazards: their identification, evaluation, elimination, and control through analysis, design and management procedures.
Volpe, The National Transportation Systems Center, is investigating new models and tools for analyzing potential hazards. System Theoretic Process Analysis models safety as a problem of controls. "It looks beyond component failures to potential system interaction errors," said Van Eikema Hommes. "The goal is to identify and eliminate potential causes before damage occurs."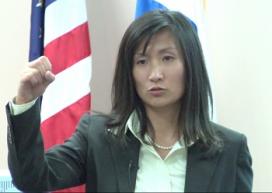 Dr. Qi Van Eikema Hommes speaks about research into hazard analysis for complex vehicular systems at a recent Transportation Trajectories event at Volpe. (Volpe photo)