New Simulator Enables Testing of Dangerous Driving Scenarios with No Harm to Drivers
Tuesday, August 19, 2014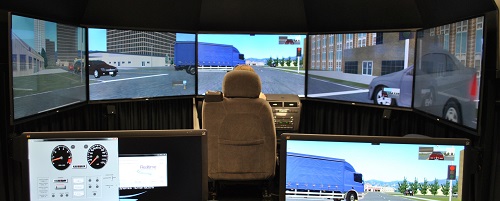 To understand driver behavior, it's not exactly safe to send drivers across railroad tracks in front of an approaching train, nor to put them in a vehicle that accelerates to 120 miles per hour.
However, an understanding of how drivers behave in these situations provides important safety data that shapes new technologies and federal regulations.
That's where simulators come into play, allowing researchers to examine user reactions to a myriad of scenarios and technologies without ever putting people in harm's way.
Volpe's New Simulator
Volpe recently acquired a new research driving simulator that features five 55-inch screens that wrap 180 degrees around users, providing a wide field of view that more closely emulates a real-car experience than typical single-screen training simulators. Owned by the Federal Railroad Administration (FRA) and housed and operated by Volpe, the custom-built $250,000 driving simulator can be used to build virtual scenarios that include freeways, country roads, and urban streets, and can emulate the performance characteristics of a range of vehicle types in different weather and lighting conditions.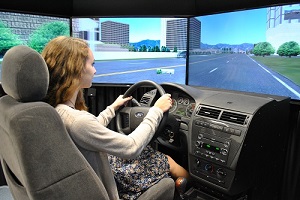 Experimenters can program a variety of scenarios into the simulator—like a vehicle suddenly swerving in front of a driver—and place customized items in their virtual "worlds"—such as adding retro-reflective paint to signs, poles, and railroad cars—and capture data on driver responses. Researchers can also customize the design of warning signs and activation of signal states, allowing them to study the effectiveness of these warnings on driver behavior.
"It allows us to explore all kinds of interactions between the driver and the vehicle," said Volpe human factors engineer John K. Pollard, who assisted in assembling the simulator and has been helping program it for upcoming experiments.
Improving Safety at Highway-Rail Grade Crossings
Highway-vehicle railroad crashes are the second-highest cause of fatalities in the railroad industry—a problem depicted in Volpe's infographic on Highway-Rail Grade Crossing Safety and Trespass Prevention.
FRA purchased the simulator from Realtime Technologies Inc. to examine motorist decision making at highway-railroad grade crossings, including motivations and expectations. FRA hopes to gain an understanding of why motorists collide with trains or risk being hit by them. Volpe engineering psychologist Dr. Gina Melnik is managing this research.
One potential way of addressing this problem is to implement new protections at grade crossings. In the U.S., more than 100,000 grade crossings lack what are called "active protections," such as gates or flashing lights, and this figure isn't surprising given the cost: installations of active protections can cost from $100,000 to more than $200,000.
FRA is interested in finding lower-cost ways that effectively warn drivers about approaching trains. Volpe will use the simulator to test driver responses to different passive and active grade-crossing warning devices, as well as exploring how various attributes of warnings (e.g., timing) affect drivers' risk-taking behaviors. The work is slated to begin in 2015.
Studying Driver Responses to Unintended Acceleration
Volpe is currently using the driving simulator for an experiment for the National Highway Traffic Safety Administration (NHTSA) that will examine how the driver-vehicle interface affects drivers' abilities to cope with unintended acceleration.
NHTSA is examining user-interface issues to see if any modifications to safety standards, guidelines, or recommended practices are needed to enhance safety, said Pollard.
Future Uses
In the future, Volpe is hoping to use the new driving simulator for autonomous vehicle testing. It could also be used to gauge driver responses to warnings about approaching trains via DSRC (Dedicated Short-Range Communication) or PTC (Positive Train Control) systems.
"With all of the complexity of electronic systems that are intercommunicating, in the future, we'll have an astounding number of things to think about to optimize safety," said Pollard.
Volpe is putting together a user interest group to share tips with other organizations in the area that have similar driving simulators, including the Liberty Mutual Research Institute for Safety and UMass Amherst.
A Suite of Simulation Technologies
The new driving simulator adds to Volpe's existing suite of technology that includes a Boeing-737 simulator and a locomotive simulator—allowing Volpe researchers to simulate human interactions with planes, trains, and automobiles.
Volpe's Boeing-737 simulator enables researchers to explore procedures on the airport surface and in all phases of flight. The flight simulator has the capability to interface with auxiliary displays for functions such as electronic flight bags, enabling human factors research aimed at mitigating risks associated with the implementation and integration of electronic flight bags on the flight deck.
Volpe IT specialists Drew Kendra and Alan Yost built this simulator from a kit and run the experiments.
The $3 million locomotive simulator, called the Cab Technology Integration Laboratory (CTIL), is a mobile, full-sized locomotive simulator configured with tools for analyzing crew performance with new cab technologies and configurations. Like the driving simulator, CTIL is owned by FRA and housed and operated by staff at Volpe. (Watch the video.) 
Volpe operations research analyst Matt Isaacs manages the experiments running on this simulator, which is being used by various organizations including Veolia Transportation, QinetiQ North America, MIT, and UMass Amherst.
"It's the only one in North America that was built specifically for research," said Volpe human factors engineer John K. Pollard, noting that most locomotive simulators are built for training purposes.