A New Approach to Managing Congestion in the Skies
Wednesday, April 29, 2015
During daily peak operations, as many as 8,000 aircraft may be operating simultaneously in U.S. airspace, guided by air traffic controllers who usher planes safely through the skies. With so many aircraft in flight at once, congestion and resulting flight delays are possible.
The Federal Aviation Administration (FAA) has made major strides in managing congestion and reducing delays, working hard to transform our nation's airspace by implementing the Next Generation Air Transportation System (NextGen). Aviation safety and efficiency are among NextGen's goals, and one way to meet these goals is by improving air traffic flow management, which requires more accurately and reliably predicting congestion at airports and in airspace.
Currently, the FAA Traffic Flow Management System uses an algorithm to create snapshots of congestion in 15-minute intervals. If traffic demand for an airspace sector is high during any 1 minute of a 15-minute interval, the system issues an alert for the entire interval—essentially showing maximum demand for a full quarter of an hour. However, that minute of peak demand may not adequately reflect the level of congestion for the entire 15-minute interval. This makes traffic predictions for airspace more uncertain, which in turn adversely affects accuracy and stability in determining airspace congestion.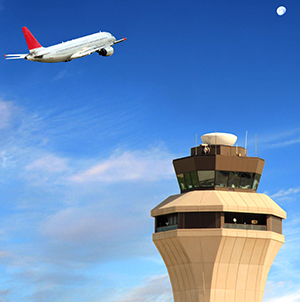 FAA asked Volpe to develop alternative approaches to predicting congestion in the airspace and find ways to display forecasted problems to air traffic controllers so controllers can more accurately predict congestion and route aircraft around the nation's skies. In this work, Volpe operations research analysts Drs. Eugene Gilbo and Scott Smith set out to explore a new method for improving the way controllers deal with congestion in airspace.
A System in Need
The current system alerts air traffic controllers when there is a possibility of crowding, much like a traffic reporter relays highway backups to drivers. While drivers may decide to seek alternate routes to avoid snarls, air traffic controllers respond by making changes in flight paths for airborne flights, or issuing ground delays for flights that have not yet departed, to ease overcrowding and keep the skies safe and efficient.
Controllers can fix minor congestion by slowing a plane in the air, but major congestion may require a wide-scale coordinated traffic management initiative involving the re-routing of flights and ground delays.

However, the current system does not display degrees of congestion in airspace. Whether the forecasted congestion is major or minor, system alerts appear the same to controllers, who must pay equal attention to them. Thus, without sufficient information on the duration and severity of forecasted congestion, controllers may not be able to respond with the most effective and efficient flight changes.
Same Data, Different Display
Drs.  Gilbo and Smith proposed a different way of displaying these alerts using data that are already in the system.
"We don't touch any fundamentals—only the way of thinking," said Dr. Gilbo.

Under their proposed approach, the new system would display two separate kinds of alerts: one that shows severe congestion and another that shows minor congestion. Furthermore, when an alert is issued due to forecasted congestion, it would remain active only until the congestion is eased.
Award-Winning Idea
This proposed new approach was so well received by the air traffic control community that it won best paper at the Air Traffic Control Association's 59th annual meeting and occupied the cover of the winter edition of the Journal of Air Traffic Control.  
"This was rewarding because this appealed to traffic managers and controllers," said Dr. Gilbo. "They are very skilled specialists and tough people to talk to about new ideas. So if the reviewers said it was the best paper, this really means something."
Improving the System, Decreasing Delays
If adopted, this new approach could give controllers a better idea of the degree of future congestion, helping them improve the flow of traffic in the skies.
"[Controllers] don't want to deal with a sudden overflow of traffic," said Dr. Gilbo.
It also has the potential to lower stress levels for air traffic control personnel, decrease flight delays, and enhance the overall air traffic control system.
For more information, read the award-winning paper, A New Approach to Monitoring and Alerting Congestion in Airspace Sectors.