NASA Transfers the Advanced Acoustic Model (AAM) to the U.S. DOT Volpe Center
Thursday, November 19, 2020
The U.S. DOT Volpe Center will continue to use, maintain, and evolve this powerful environmental model 
With more than 50 years of transportation innovation for the public good, the U.S. Department of Transportation Volpe National Transportation Systems Center (U.S. DOT Volpe Center) has a long history of developing noise, air quality, and safety risk models that help ensure environmental impacts are factored into the development of transportation-related systems and policies. 
Because of this expertise, the National Aeronautics and Space Administration (NASA) recently transferred the Advanced Acoustic Model (AAM) to the U.S. DOT Volpe Center to provide technical oversight and continue to maintain and evolve the model. 
AAM is a software tool that researchers use to model aircraft noise, including helicopters, tiltrotor vehicles, and aircraft that utilize one or more rotors to generate lift. AAM is flexible in its ability to allow users to easily model noise from any traditional or evolving transportation noise source. 
As an example of how one may utilize AAM, the U.S. DOT Volpe Center recently adapted a version of AAM to predict quarry noise for the Oregon Department of Transportation.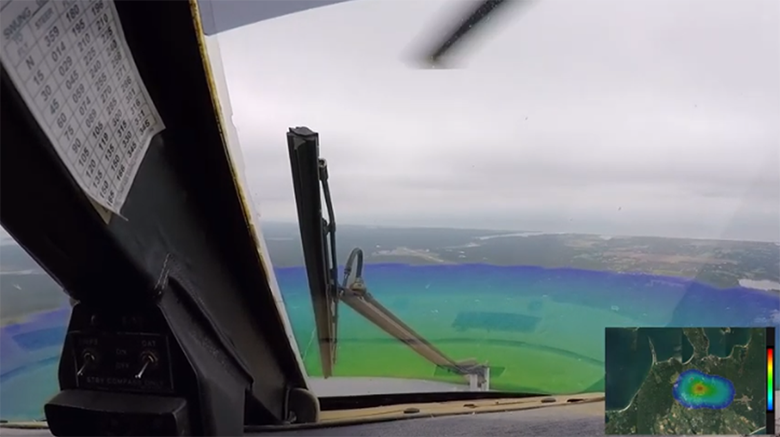 In the 1990s, Juliet Page, a physical scientist now with the U.S. DOT Volpe Center's Environmental Measurement and Modeling Division, was part of the original team that developed AAM for NASA with the initial purpose of modeling noise from conventional rotorcraft and tiltrotors. 
As technology has advanced, AAM has evolved beyond NASA's original needs to handle helicopters, tiltrotors, and fixed-wing aircraft—even becoming an important tool for the Department of Defense (DOD) for modeling environmental noise from military helicopters and tiltrotors. DOD continues to valuate the application of AAM to fixed-wing aircraft noise modeling. Industry has also invested to include capabilities for modeling advanced urban air mobility (UAM) vehicles to enable a safe and convenient transportation system in the future for passengers and cargo within metropolitan areas.
AAM: A Simulation Model with a Nuanced Analysis Approach
Depending on the level of fidelity needed, acoustic researchers employ either "integrated" or "simulation" models in environmental modeling. 
Integrated models provide simple, large-scale assumptions, similar to what you would find in a large, standardized commercial aircraft noise database. 
Conversely, simulation models, like AAM, give a much more detailed representation of vehicle noise characteristics, allowing for the calculation of detailed acoustic time histories at points of interest and the creation of acoustic animations.
"It's a very powerful tool to dip into the technological details, which you might not do for regular analyses," Page said. "But if you're doing research and trying to understand what is important to capture, you need something that is high fidelity to ensure that you haven't made erroneous conclusions based on simplified assumptions." 
AAM in Practice: Fly Neighborly 
As another case in point, environmental measurement and modeling experts at the U.S. DOT Volpe Center, in support of the Federal Aviation Administration (FAA) and in coordination with NASA, are revamping the Helicopter Association International (HAI) Fly Neighborly program—and using AAM to do so. Fly Neighborly aims to teach helicopter pilots and operators noise abatement techniques so they can be safely integrated into daily flight operations. 
The Fly Neighborly team is using AAM to develop acoustic animations, which allow pilots to visualize the sound helicopters create in communities during flight operations. The team chose AAM to model a procedure involving a helicopter landing at a specific heliport. 
While other integrated tools could model this scenario, the Fly Neighborly team knew AAM could model the subtleties associated with approach angle, deceleration, turns, and other aspects of the flight, enabling the design of quieter approach procedures. The acoustic visualization and animation features of AAM also make it a particularly powerful tool for Fly Neighborly training.

The Future of AAM
The U.S. DOT Volpe Center plans to continue to use, maintain, validate, and expand AAM as it uses the tool in innovative ways and as technology continues to evolve. Following an initial validation study, DOD plans to expand use of AAM to fixed-wing aircraft analysis. This should occur in the next two years. In addition, other government, academic, and industry acoustic researchers around the world continue to use AAM as a tool to inform environmental analyses and to assess advanced modeling simulations to determine which metrics and analysis types to use.  
To learn more about how the U.S. DOT Volpe Center is using AAM to mitigate environmental impacts associated with aircraft, contact the AAM team. 
Celebrating 50 years of advancing transportation innovation for the public good, the U.S. DOT Volpe Center's mission is to help the transportation community navigate its most challenging problems.