Intermodalism: A 20-Year Perspective
Tuesday, November 18, 2014
The concept of intermodalism is as familiar today to transportation professionals as dedicated bike lanes. But 20 years ago, intermodalism wasn't as common; it was just taking hold as a new concept in the federal transportation community.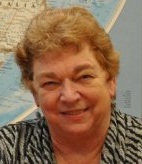 "With the completion of the Eisenhower Interstate Highway System, it was important to have the next vision of the future," said Anne Aylward, deputy associate administrator for Research and Innovation at Volpe, the third presenter in Volpe's Transportation and the Economy speaker series. "At the time, increased freight activity was severely impacting the street networks leading to port and rail terminals."
Many Modes, One Big Puzzle
Instead of thinking about the components of our transportation system as scattered, isolated fragments, intermodalism encourages planners and decisionmakers to think about American transportation as an interlocking puzzle. At its core, intermodalism is about fluidity—a seamless movement of people and goods between trains, planes, pipelines, vessels, and vehicles.
"No one likes truck traffic going by their house," Aylward said. "But when you go to the store you expect to find Cheerios on the grocery store shelf. How do you think the Cheerios got there? There's no such thing as the immaculate conception of Cheerios. Freight has to move."
Aylward served as executive director of the National Commission on Intermodal Transportation, which in 1994 published a first-of-its kind report that provided an overview of the state of intermodalism in American transportation. The report highlighted the benefits of intermodalism and made recommendations for improving intermodalism.
"Thinking about the nation's [transportation] system as a system had significant benefits in terms of lowering overall costs, increasing productivity, reducing congestion, improving mobility, and reducing energy consumption," Aylward said.
Barriers and Progress
Before those benefits could be realized, the commission found there were significant institutional barriers to achieving intermodalism, Aylward said. Planning and policy at the federal level did not encourage intermodalism. Federal funding often fell short of authorizations. And, most importantly, agencies and investment priorities were organized strictly by mode.
Ten years later, in 2004, those barriers were still up. But fast forward to 2014 and significant progress has been made. The U.S. Department of Transportation (DOT) established a Freight Policy Council in 2012 to develop and implement a modern, intermodal freight network. And the DOT Tiger Grant program provides grants for projects that don't fit in to the traditional modes.
"In the last number of years something really has happened around intermodal transportation—and particularly around federal support for freight issues," Aylward said. "This new attention has come from the legislative and executive branches and from the private sector."
An Intermodal Continent
The tide, it appears, is turning strongly toward intermodalism. There are more leaders today than ever in the nation's capital who understand the importance of thinking about our transportation system as a whole, Aylward said.
But the movement of people and goods doesn't happen exclusively within America's borders. America is a world center of trade, jobs, and innovation. Our borders to the north and south are gateways to some of our most important economic partners.
"It drives me crazy to see maps of the U.S. transportation system that go blank at the northern and southern border," Aylward said. "The Canadian and Mexican transportation systems are integrally connected to our transportation system and we need to remember that and take that into account as we plan."