Increasing Access to Work Zone Information to Improve Highway Safety for All
Wednesday, October 5, 2022
The nation's transportation system is becoming increasingly data driven. Safe and efficient mobility for all is dependent on reliable real-time information about work zones and other disruptions to usual traffic operations. Standardizing access to these data is critical to improving safety—not only for keeping highway workers and drivers safe, but also enabling efficient integration of automated vehicles (AVs) into the transportation network. Most infrastructure owners and operators (IOOs) maintain data on work zones, but the lack of common, simple standards makes access to and use of these data by third parties cumbersome and costly, thus reducing the potentials and effectiveness of data.  
The Intelligent Transportation Systems Joint Program Office (ITS JPO) launched the Work Zone Data Exchange (WZDx) project in 2018 to jumpstart adoption of a simple, open data specification that allows IOOs to provide consistent work zone activity data to third party users. The ITS JPO collaborated with the U.S. DOT Volpe Center's innovation experts on the WZDx project based on Volpe's long-standing commitment to providing high-quality strategic development, scope assessments, and exploratory research.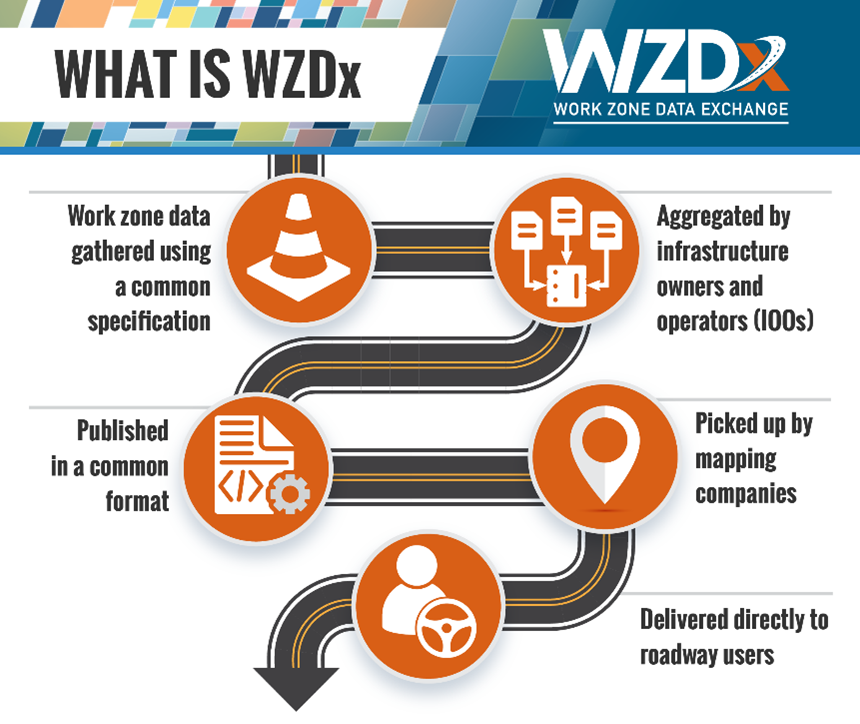 The U.S. DOT Volpe Center co-leads the WZDx project with FHWA and the ITS JPO. Since launching the project, the U.S. DOT Volpe Center team has convened key stakeholders to guide iterative development of the WZDx specification. Through consistent outreach and promotion, the U.S. DOT Volpe Center team helped the growth of the stakeholder community from 10 to over 375 members representing more than 185 agencies and unique organizations, including infrastructure owners and operators (IOOs) such as state and local DOTs, OEMs and automated vehicle developers, navigation/mapping application developers, and construction companies. The U.S. DOT Volpe Center has championed this community—now a leading voice for work zone data and information—by providing leadership, vision, and strategic orientation for nationwide work zone data sharing, as well as undertaking research into crucial issues such as how to share reliable, consistent but flexible data about the presence of workers in work zones.  
WZDx is also serving as a platform for communicating other information crucial to highway safety. The specification has been extended to include a way for IOOs to specify detour routes that drivers should follow around a road closure. WZDx stakeholders are expanding the specification to include other geospatial data, such as bridge/overpass clearances, traffic incidents, and more.  
To date, 11 state DOTs and the National Park Service have active WZDx data feeds, with an additional 7-10 feeds expected by the end of 2022. The U.S. DOT Volpe Center is building momentum to provide the national standard for work zone data and works with data producers, aggregators, and publishers to understand and eliminate barriers to providing these data to those who need them.