Has Growth in Automobile Use Ended?
Friday, August 8, 2014
For almost 40 years, auto usage, as measured by vehicle miles traveled (VMT), closely tracked real gross domestic product. VMT dropped during the most recent recession, as it has during previous ones. But unlike after prior recessions, it still hasn't recovered.
Volpe economists Don Pickrell and David Pace have been studying this relationship and they discussed some of their findings during a recent speaker series event at Volpe, The National Transportation Systems Center.
Demographic Driving Patterns
About the recent decline in driving, Pace stated that it "has been concentrated among teens and young adults." Teen driving decline is nothing new, but the reduction in driving by young adults is. Declines in driving have also been much more widespread among men than women.
Male versus female driving patterns over the past decade:
Driving by men declined in every age group except those 65 or older.
VMT of women who are 20 to 34 years of age has dropped since the early 2000s.
Women in their mid-30s to mid-60s are driving more.
Seniors of both genders are also driving more.
Seniors are driving more than the same age group did a decade ago. One reason for this trend is that more seniors are working past the age of 60, explained Pace.
Why People Are Driving Less
"Some causes aren't new," said Pace. "Car ownership is essentially at its saturation point. Baby boomers drive less as they age. It's more expensive to purchase and own a car." New laws have also restricted the pace at which teens acquire driver's licenses.
Pickrell and Pace have identified some new, likely causes of reduced VMT. Gasoline prices have risen sharply since 2005 and are much more volatile compared to the late 1990s, when prices hovered at about $1.00 per gallon. "Also, young people have more education debt now, so it's harder for them to afford a car," explained Pace. "This situation is exacerbated by the difficulty of finding a job."
The decline in VMT does not appear to be a result of shifting to other modes: gains in transit, biking or walking, and teleworking each account for only about 1 percent of the recent decline in VMT, and e-shopping has reduced vehicle use by less than expected because it requires more truck travel to deliver purchases.
The economy's effect on VMT is seen by the fact that declines in driving for all ages mirror recent declines in the employment rate for each age group, although even employed people are driving slightly less than they did a decade ago. The sharpest declines in income since the early 2000s have been concentrated among lower-income households, whose driving habits are most sensitive to income changes.
Impact of Reduced Vehicle Miles Traveled
"Why do we care?" asked Pace. Pickrell and Pace identified several reasons. Fewer vehicle miles traveled results in less air pollution, increased highway safety, and less growth in congestion, except near specific locations such as transportation hubs or large sports facilities.
Fewer miles traveled reduces the Highway Trust Fund revenues, which can't currently support infrastructure investment requirements. While the long-range transportation planning process currently seeks to accommodate growth and reduce congestion by expanding capacity, fewer VMTs affect planning assumptions.
Business as usual—just like driving as usual—may be a thing of the past.
To learn more, view the video highlights and presentation from the event.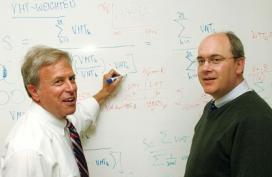 Volpe economists Don Pickrell and David Pace shared the podium at a recent Volpe speaker series event and discussed the decline in auto usage. (Volpe photo)