Cities Take Steps to Increase Bicyclist and Pedestrian Safety
Monday, October 20, 2014
A simple yet promising technology has been proven to save the lives of bicyclists and pedestrians on roadways. That's why cities such as Boston are taking the initiative to require a new piece of equipment on large trucks.
Boston Mayor Marty Walsh recently proposed a rule to the Boston City Council requiring side guards on all large city vehicles or trailers.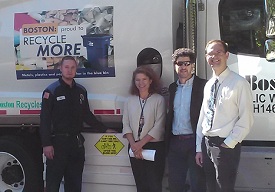 Side guards, which are installed on large trucks to protect bicyclists and pedestrians from falling underneath the vehicle, helped reduce bicyclist fatalities by 61 percent and pedestrian fatalities by 20 percent in the United Kingdom in side-impact crashes after side guards were required on most heavy-duty vehicles.
Although Dr. Epstein's team didn't win the competition, he delivered a talk about the potential benefits of side guards at a LivableStreets event in Cambridge, Massachusetts, in early 2013. An advisor to former Boston Mayor Thomas Menino heard his talk and contacted Dr. Epstein to learn more about his research, which led to last year's pilot initiative that added side guards to 19 Boston Public Works Department vehicles.
Earlier this year, New York City also asked Volpe to help it study and develop pilot initiatives on side guards for its largest-in-the-nation municipal truck fleet.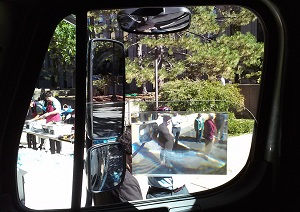 "I am pleased that this life-saving measure, a first in the nation, is moving forward as a result of the Volpe-Boston partnership over the past two years," said Dr. Epstein. "Side guards, blind spot mirrors, sensors, and other truck technologies are all important means to prevent or mitigate deadly crashes with the pedestrians and bicyclists who must share the road with these massive vehicles. I believe that vehicle-based safety is becoming a key strategy for cities to reach their goals of reducing or eliminating traffic fatalities." 
Boston City Council voted unanimously on October 29, to pass the Truck Side Guard Ordinance. Read the press release: City Council Passes Truck Side Guard Ordinance.