Car Culture and the Suburbs in Mexico City
Wednesday, September 17, 2014
The rise of the suburb in postwar America paved the way for a car in every driveway and an exodus from city centers. Suburbanization continues to shape the world's cities and megacities, and perhaps in no place are the cultural changes—and trends in car ownership—more evident than in Mexico City.
As University of Pennsylvania professor Erick Guerra explained during a recent talk at Volpe, the suburbs of Mexico City are much different than Levittown, the New York City-area suburban development that boomed in the 1950s amid high demand for housing close to, but not in, the city.
Like any clusters of suburbs that grow around an urban area, the suburbs of Mexico City are shaped by the history and demographics of the city they surround, said Guerra. The first thing to note is that Mexico City is relatively wealthy. The second is that, just as in modern cities across the world, people with more money are moving back to the city center. And the third is that Mexico City's suburbs are still maturing.
The Transportation View from the 'Burbs
Suburbanization in Mexico City goes something like this: imagine concentric circles rippling out from the city center. The first circle is the hub. Neighborhoods like Zona Rosa look much like any typical major city, where titans of industry and politics rub shoulders with young professionals and tourists—people who work and play where they live, for whom car ownership is a choice that is economically feasible, said Guerra.
Move out to the fourth and fifth circles and the landscape is characterized by working class high-density informal settlements—a far cry from the archetypal American suburb, which typically features planned design and low density.
But in the fastest growing Mexico City suburbs, like Ixtapaluca, which has seen population density nearly triple from 1990 to 2005, informal settlements are getting a few new neighbors: high-density planned developments that are massive, quickly built, and feature small row houses each with a private parking spot.
"Thinking about the geography of car ownership in the developing world, three trends have been apparent: suburbanization, a shift to large-scale commercial housing developments rather than informal urbanization, and a rapid growth in vehicle fleets," Guerra said.

Typical floor plans of commercial suburban developments near Mexico City. (Erick Guerra image)
Getting There Without a Car
While new suburban developments in Mexico City are geared toward car ownership, Guerra found that car ownership is hardly commonplace.
Between 40 and 60 percent of people in commercial developments and 30 to 40 percent of people in informal settlements own a car.
Nearly three-quarters of the wealthiest households in Mexico City own a car compared to less than one-quarter of households at the lowest end of the income spectrum.
Suburbanites in Mexico City often use minivan taxis to travel around their neighborhoods and to the nearest subway station to get to the city center. 
"As you would expect, households with higher incomes are highly statistically likely to own cars," Guerra said. "But perhaps unexpectedly, the further households are from the city center, the less likely they are to own a car."
The Implications of Suburbanization
Across Mexico City, car ownership is increasing, but Guerra's research shows that trend is not coming from the suburbs. Mexico City's formally developed suburbs tend to morph to resemble informal settlements. Residents may repurpose their private driveways as commercial space, build additions to their homes, and conditions become more crowded.
The suburbs around Mexico City will probably never look like American suburbs in terms of land use and transportation, but Guerra warns that if the government keeps encouraging suburban development despite increasing demand for housing in the city center, where many suburbanites work, Mexico City will have to grapple with more pollution and congestion, and residents will have higher commute times and travel expenses—problems familiar to suburbanites in America.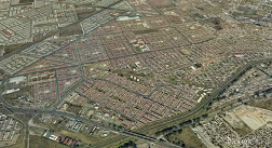 Tracts of suburban housing developments near Mexico City. (Google Earth photo)