Advancing the Northeast Corridor's Future
Wednesday, July 30, 2014
Volpe supports the Federal Railroad Administration's (FRA) Northeast Corridor (NEC) multi-state planning and environmental efforts, known as NEC FUTURE. The NEC FUTURE program focuses on developing regional consensus on a plan that includes near-term and long-term broad, programmatic service options and infrastructure improvements to meet 2040 demand, specifically for intercity and commuter passenger rail service, and the assessment of environmental consequences of those actions as required by the National Environmental Policy Act (NEPA).
Volpe's support to FRA includes assistance with procurement actions for contractor support, assistance in the management and oversight of the contractor, participation in working group activities, and support of key elements of the environmental process.
The Challenge
NEC FUTURE is a comprehensive planning effort to define, evaluate, and prioritize future investments in the NEC. The NEC, the rail transportation spine of the Northeast region, is a key component of the region's transportation system and is vital to its sustained economic growth. The 457-mile corridor—anchored by Boston's South Station in the north, New York's Penn Station in the center, and Washington's Union Station in the south—is one of the most heavily traveled rail corridors in the world.
While improvements continue to be made, the NEC faces serious challenges, with century-old infrastructure, outdated technology, and inadequate capacity to meet current or projected demand.
Responding to these issues, FRA initiated NEC FUTURE to create a framework for future investments through development of a Tier 1 Environmental Impact Statement (EIS) and Service Development Plan (SDP).
The Solution
Volpe assisted FRA in the efforts to develop a scope of work and acquisition plan, and select a contractor to provide Tier 1 EIS and SDP. Volpe assists with managing the multiple "moving parts" associated with the NEC multi-state planning effort, including support for continuing the efforts from the Council on Environmental Quality Pilot Program. As part of these efforts, Volpe works to identify NEPA best practices and associated follow-on coordination with federal resource and regulatory agencies.
NEC FUTURE includes extensive stakeholder engagement and public outreach. Volpe supports FRA by facilitating and participating in meetings as part of this multi-state planning effort, which involves U.S. Department of Transportation agencies, the NEC Commission, state DOTs, and other organizations and agencies. This also includes providing FRA with perspectives in working with other agencies, state organizations, and the NEC Commission.
Volpe advises FRA throughout the project, including participating in development and selection of methodologies for project processes and assuring their proper implementation. Volpe also provides technical and management support for project work planning items and coordination of project activities across tasks.
In this initiative, Volpe operates as an extension of staff for FRA in providing contract oversight, program management, technical guidance, environmental reviews, technical working group participation, and day-to-day coordination with technical and management activities.
The Impact
NEC FUTURE will create a framework for future investments that are needed to improve passenger rail capacity and service through 2040, providing a road map to a better transportation solution for the Northeast.
If successful, this initiative will develop an integrated passenger rail solution for the Northeast that improves mobility, meets current and future transportation needs, and sustains and advances economic growth.
With Volpe's support, FRA maintains the aggressive program schedule and provides technical guidance to the contractor, in addition to the active outreach and engagement efforts needed with stakeholders for NEC FUTURE's success.
Customer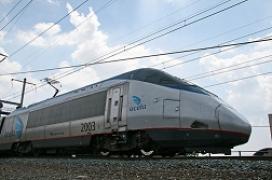 Federal Railroad Administration