Delivering Efficiency with NextGen
Michael G. Whitaker
Deputy Administrator, Federal Aviation Administration
Michael G. Whitaker, deputy administrator for the Federal Aviation Administration (FAA), presented a talk at Volpe titled "Delivering Efficiency with NextGen." In this talk, Whitaker discussed how the Next Generation Air Transportation System (NextGen) is crucial to enable growth and change in aviation. He also examined how NextGen will make the U.S. more competitive in the global economy and the impact of aviation on U.S. regional economies.
About the Speaker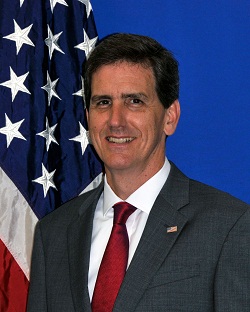 Michael G. Whitaker is the Deputy Administrator for FAA. Whitaker is responsible for helping to ensure the safe and efficient operations of the largest aerospace system in the world. This includes more than 50,000 daily operations as well as enforcing safety standards for all equipment and aerospace professionals within the aviation industry.
Whitaker also serves as the Chief NextGen Officer and is responsible for the development and implementation of FAA's NextGen. NextGen is an air traffic control modernization program that is shifting from ground-based radar to state-of-the-art satellite technology.
Read more about Michael G. Whitaker.
News and Video
Read the news story and view the video from the event.