Five Teams, Six Judges, Seven Minutes: Volpe's Third Innovation Challenge
Thursday, January 15, 2015
Five teams competing for seed funding waited anxiously to take the stage.
Six DOT executives took their seats as judges of Volpe's third Innovation Challenge.
The teams each gave seven-minute presentations describing the problems they proposed to solve, the solutions they wished to develop, and the impacts those solutions could have on transportation. 
Weeks of preparation came down to seven minutes in front of the esteemed panel of judges from across DOT. After each of the teams presented its innovative ideas, the judges asked probing questions.
"How much are we going to pay for this benefit?" asked judge Carl Burleson, FAA deputy assistant administrator.
"What are some unintended consequences?" asked Stephen Domotor, PHMSA chief safety officer.
The teams responded eloquently and with aplomb. Each team worked hard to improve its proposal in hopes of receiving funding to complete the early phases of its proposed project. 
The proposals were varied and well explained. Proposals included the following:
The development of methods to reduce confusion from the wide variety of auditory cues that are used in the cockpit to inform pilots
An effort to find non-traditional data sources that can help improve transportation planning
An examination of tools that can both encourage motorcycling and bicycling and improve cyclists' road safety
The creation of travel planning software that will provide the "greenest" travel options
The development of techniques to use crowdsourced signals to create a complementary positioning network in the event of GPS outages
"Our team [Crowdsource Positioning, A Complement to GPS Navigation] enjoyed the opportunity to be creative and put together a cross disciplinary team of Volpe staff," said Innovation Challenge participant Andrew Hansen. "We were fortunate to be able to convey a novel idea to our transportation partners through our presentation to the judges. The competition among the teams was a strong motivator and it was impressive to see the variety of ideas. We were fortunate enough to take the prize."
The Winning Team
Crowdsource Positioning, A Complement to GPS Navigation
The winning team proposes to create a complement to GPS to mitigate the known vulnerabilities of the GPS signal. A user's position can be computed by measuring the time of arrival of signals that are broadcast by other users. Aircraft communication links and cell phones, for example, broadcast signals that can serve as a "crowdsource" for this complementary position estimate.
The concept relies on there being two antennas to establish the angle of arrival of various broadcast signals. Using geometric principles, angle-of-arrival measurements can be used to compute the receiver's position. This computed position is independent of GPS and may be capable of being used in place of GPS should there be a GPS outage. The position estimate may also be able to be combined with the GPS position estimate to yield a more accurate position.
This crowdsourced position approach has the potential to offer better navigation service and to benefit navigation service providers such as the FAA by reducing the need for dedicated alternative navigation systems.
Innovation Challenge Winning Team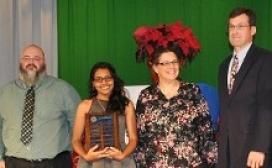 The Innovation Challenge winning team: Crowdsource Positioning, A Complement to GPS Navigation. Team members (from left to right) pictured above are Aaron Hastings, Abygail Mangar, Carolyn Perry, and Andrew Hansen.
2014 Innovation Challenge Judges
Carl Burleson, FAA deputy assistant administrator
Stacy Cummings, FRA executive director
Stephen Domotor, PHMSA chief safety officer and assistant administrator
Natesh Manikoth, FAA NextGen chief scientist for software
Craig Middlebrook, SLSDC deputy administrator
Greg Winfree, assistant secretary for research and technology, Office of the Secretary