From Transit to Access: Rethinking How Cities Connect Their Residents to Opportunity
Ben Hecht
President and CEO, Living Cities
For generations, low-income people from around the world have viewed American cities as the best path to a better life. In recent decades, however, the promise of opportunity has been outstripped by reality.
Moreover, when opportunities exist to further one's education or get a better job, it can take too long, cost too much, or there may be other barriers—such as lack of access to broadband or child care.
Our assumptions about how people access opportunity have remained largely static, tied to a mental model that causes us to repeatedly focus on traditional means of access, such as public transit or a car, and fails to harness all that technology can offer. We need a New Urban Practice: a fundamentally different way of solving problems and riding trends of change that can move the needle on poverty and economic opportunity in cities.
Ben Hecht, president and CEO of Living Cities, gave a talk at Volpe, "From Transit to Access" as part of The Future of Transportation series.
About the Speaker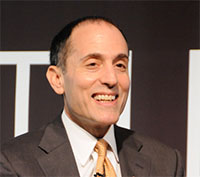 Ben Hecht was appointed president and CEO of Living Cities in July 2007. Since that time, the organization has adopted a broad, integrative agenda that harnesses the collective knowledge of its 22 member foundations and financial institutions to benefit low-income people and the cities where they live. Living Cities deploys a unique blend of more than $140 million in grants, loans, and influence to re-engineer obsolete public systems and connect low-income people and underinvested places to opportunity.
Prior to joining Living Cities, Hecht co-founded One Economy Corporation, a non-profit organization focused on connecting low-income people to the economic mainstream through innovative, online content and increased broadband access. As president from 2000 to 2007, Hecht led the growth of the organization from 4 employees to a $12 million organization with 50+ staff, online media properties serving more than 150,000 low-income people a month, and programs in 40 states, the Middle East, and Africa.
Read more of Ben Hecht's biography.
News and Video
Read the news story and view the video from this event.
The views of the presenter do not necessarily reflect those of U.S. DOT.