Kerri-Lee DeRusha
Director of Facilities Management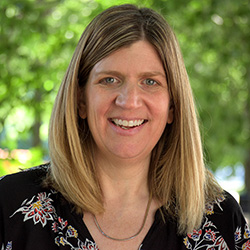 Kerri-Lee DeRusha is the director of Facilities Management and leads facilities management, physical and personnel security, safety, capital planning, and other support service operations. She has been at the Volpe Center for more than 29 years. She earned a BS in Accounting from Northeastern during her time as an intern and later earned an MBA from Northeastern through the Volpe Fellows Program.
During her steady career progression, she worked in financial management, program development and resource management, acquisitions programs, and facilities. In these positions, DeRusha has gained an extensive understanding of the Volpe Center's business operation and technical programs.
DeRusha has been recognized multiple times for her leadership and development of staff, receiving the Frank Tung Award in 2016 and the GBFEB Supervisor of the Year award in 2012. She has established a long record of participating in Center-wide efforts to address challenges and find innovative ways to meet the Volpe Center's needs. She led or worked on teams recognized for streamlining the security clearance process, identifying and implementing cost efficiencies with onsite contracts, and ensuring fairness in space management. 
Last updated: Monday, August 23, 2021