The U.S. DOT Volpe Center's 2020 Annual Project Accomplishments
Thursday, January 7, 2021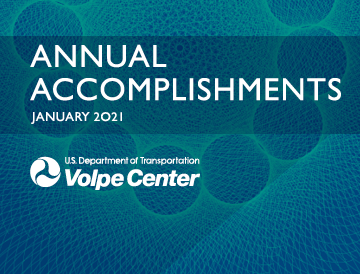 As we turn the page on 2020—the 50th anniversary year of the U.S. Department of Transportation (U.S. DOT) Volpe National Transportation Systems Center (Volpe Center) and the challenges and anguish experienced during the ongoing COVID-19 pandemic—we look to 2021 with great anticipation and optimism.
We are fully committed to carrying out our mission of improving the nation's transportation system by anticipating emerging issues and advancing technical, operational, and institutional innovations for the public good. We stand ready to support the objectives of the incoming Administration and the priorities of the new Secretary of Transportation. 
Our Annual Project Accomplishments report represents some of our best work of 2020 and underscores our sustained support to U.S. DOT and others. We thank our sponsors for collaborating with us on important work that strengthens the transportation system and prepares us for the future—and we acknowledge our multimodal, multidisciplinary, and multigenerational workforce.
The past year tested our grit, but the U.S. DOT Volpe Center team stepped up, balanced an extraordinary workload with personal demands, and went above and beyond to deliver high quality technical work over and over again. 
Read about our Annual Project Accomplishments and review reports since 2016. To learn more about our 50-year legacy, please contact U.S. DOT Volpe Center Director of Strategic Initiatives for Research and Innovation Ellen E. Bell.
Celebrating 50 years of transportation innovation for the public good, the U.S. DOT Volpe Center's mission is to help the transportation community navigate its most challenging problems.