Mary E. Doherty
Director of Acquisitions
Mary E. Doherty serves as the director of Acquisitions and chief of the Contracting Office. She joined the U.S. DOT Volpe Center as chief of the Contracts and Small Business Programs Branch in July 1998, and since then has served in several key managerial positions within Acquisitions. She has served as the contracting officer on Volpe's largest on-site technical support contract and is a trusted acquisition advisor to Volpe.
Doherty holds an unlimited contracting officer's warrant and is a Certified Federal Contracts Manager (CFCM), recognized by the National Contract Management Association, and has a Federal Acquisition Certification in Contracting (FAC-C) Level III, awarded by the Federal Acquisition Institute and the DOT Senior Procurement Executive.
Doherty began her federal career in 1987 at the Centers for Disease Control in Atlanta, Georgia, working in the National AIDS Information and Education Program. In 1988, Doherty moved to Boston, Massachusetts, to begin her contracting career at the General Services Administration's (GSA) Public Building Service and with the Federal Technology Service's Federal Computer Acquisition Center (FEDCAC). In 1998, she served as the contracting officer on GSA's high-visibility $9 billion multiple award Government-wide Agency Contract (GWAC) for Seat Management Services and its $6 billion multiple award GWAC for Virtual Data Center Services.
Doherty is a 1997 graduate of GSA's Trail Boss Program, a 1993 graduate of the Office of Personnel Management's Women's Executive Leadership Program, and a 2001 graduate, and now a Senior Fellow, of the Council for Excellence in Government Fellows Program. She received her bachelor of science in business administration from Auburn University in 1986 and her master of business administration in acquisition and contracting from Western New England College in 1996.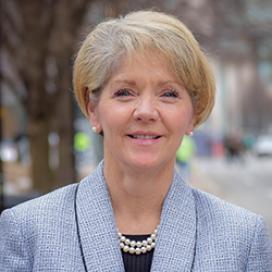 Last updated: Tuesday, January 19, 2021