White River National Forest and Town of Vail: East Vail Trail Access
The White River National Forest (WRNF) is the most visited national forest in the country and manages resources and activities across more than 2.4 million acres of forest in the west central part of Colorado. The Forest occupies parts of nine counties and is administratively divided into five ranger districts, including the Eagle-Holy Cross Ranger District. The Town of Vail is located within this District and is home to world-class skiing, hiking, and other outdoor activities.
Five popular trails access the WRNF's Eagles Nest Wilderness from East Vail: Pitkin Creek, Bighorn Creek, Gore/Deluge, and Booth Creek. In recent years, the demand for parking for and access to these trails, often for Booth Creek and occasionally Gore/Deluge, has overwhelmed available resources.
In 2019, the WRNF and the Town of Vail asked the Volpe Center to work with a stakeholder group composed of Forest, Town, and Vail Resort staff and non-profit partners to identify and help implement transportation management strategies at these trailheads. In the fall, Volpe worked with the Town of Vail to implement and analyze data from a hiker survey. The results of this survey, combined with other data and Forest and Town field observations, led to the development of several proposed transportation management strategies and public outreach and information tools, include the Town of Vail's www.HikeVail.net website. The Volpe Center is now helping the stakeholder group prioritize and implement these management strategies.
Final Report, November 2019:
Town of Vail East Vail Trails Survey Report (PDF)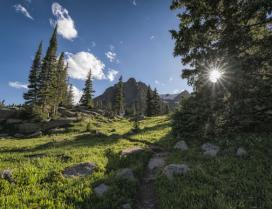 Last updated: Wednesday, April 1, 2020