Trails Inventory
A lack of data needed to identify transportation trail gaps and opportunities in the Northeast Region (NER) inhibits decision makers from accurately prioritizing funding for trail projects. Volpe has provided trail inventory assistance to the region in a two-phase effort.
First, Volpe assisted NER in identifying opportunities for improved access between National Park Service units and nonmotorized regional trails through geographic information systems (GIS) processing, incorporating GIS data from a number of states and metropolitan planning organizations in the Northeast Region. A majority of trails were geo-located in the initial phase; however, a portion of the trails were not.
Phase 2 of the effort was launched in 2017 to document specifically which trails were transportation trails and to capture coordinates for the remaining "hardest to get" assets to complete the inventory and help inform the NER Long-Range Transportation Plan (LRTP) update, which will begin in FY19.
The combined Phase 1 and 2 effort supports the National Park Service's "Call to Action" goal of connecting people to parks, as well as asset management and safety goals in the 2013 NER LRTP and 2017 NPS National LRTP.
The Volpe Center documented the project methodology in a final report and delivered the geolocation data in a spreadsheet and geodatabase.
Final technical report, August 2018:
Defining and Monitoring the Transportation Trail System: Northeast Region, National Park Service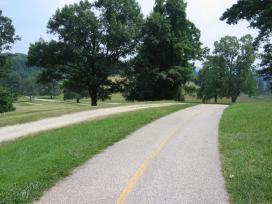 A trail at Valley Forge National Historic Park. (Volpe photo)
Last updated: Monday, June 17, 2019